Rainbow Riches Drops of Gold Slots launched at Mayfair Casino
Finding the the pot of gold is easy in Rainbow Riches Drops of Gold slots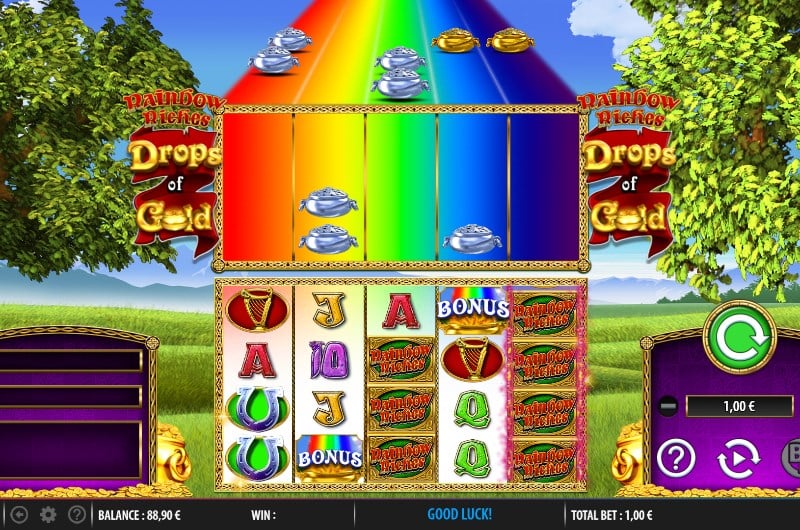 Rainbow Riches Drops of Gold slots is the latest slot to be launched at Mayfair Casino, London
Scientific Games latest slot sees the return of our favourite flushed face leprechaun who is undoubtedly ready for the casino craic. The latest game in the Rainbow Riches franchise features up to 200 paylines and supports a maximum win of £250,000.
In terms of setting, once again we find ourselves in a serene emerald countryside surrounded by trees and lush fields. On the reels, we have your usual assortment of lucky charms, pots of gold and other Irish themed items which have become a mainstay in these slot games.
So far, this sounds like your typical RR slot - but this game is very different to games that have come before it.
Rainbow Riches Drops of Gold Slots Features
The most instantly recognisable feature is the odd reel shape, which sees the addition of a further set of reels just above the main game area. In this rainbow coloured reels, silver and gold pots rest comfortably seemingly doing nothing. The key to releasing the pots lies in the 5th reel and the Drops of Gold symbol; if the symbol lands on the 5th reel then all of the pots will release and overlay the reels.
There are two pots to watch out for: the silver pots, which act as wild symbols and will substitute for every other game symbol (minus the scatter). Then there are the gold pots, which will substitute for every symbol in the game - including the scatter symbol. The silver pot has the additional feature of upgrading to a gold pot if the pot overlays a bonus symbol.
Rainbow Riches Drops of Gold Slots Free Spins
To activate the free spins bonus, you will need a total of at least three bonus symbols - which will award 8 free spins. An additional 4 free spins will be awarded for every bonus symbol visible on the reels. Arguably, the free spins isn't the highlight bonus available here - it's actually the Big Bet feature - a type of side bet that allows you to access the bonus round instantly.
You have several choices of Big Bet game to choose from, with the costliest games giving you access to the Super Rainbow (which will award extra pot symbols), double sized drops of gold symbols (to increase pot drops), the removal of low value symbols and even extra paylines. As a franchise, this series continues to involve in new and exciting ways - and the latest version of the game is the most ambitious yet!
Play Rainbow Riches Drops of Gold Slots
This game will surely appeal to you if you enjoy Irish lucked themed games or have enjoyed previous entries in the
Rainbow Riches slots
series. Slot players who also enjoy an abundance of bonus features and wilds will also find the drops of gold feature tremendously exciting. Another classic entry into a franchise that gets stronger with every new game release.