Dream Catcher Casino Strategy Guide
Learn the best betting strategies to use on the Dream Catcher live casino game.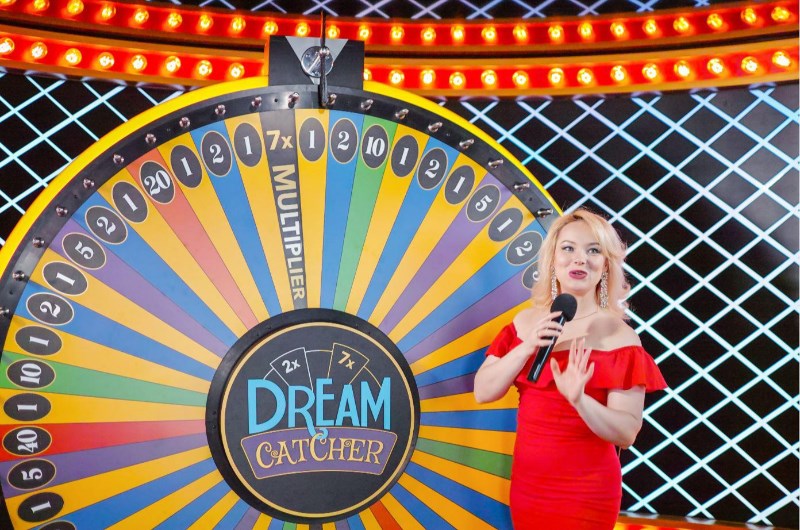 Dream Catcher has become one of the most popular games around.
The game show presentation, the energetic host, the spinning wheel filled with prizes... live casino doesn't get much better than this. But what makes the game truly exciting is
Dream Catcher casino strategy
.
Non UK players can play Dream Catcher at these casinos:
There are actually a number of different ways you can approach this game. And some betting styles will suit different types of players. Perhaps you want to leverage the multiplier segments? Or maybe you prefer a cautious approach. Below you will find some popular ways to play complete with tricks and tips.

Dream Catcher Wheel Strategy
Strategy #1: The Spread
This method takes advantage of the 2x and 7x multiplier segments. On each betting round, you place your wagers solely on the 5, 10, 20 and 40 segments. But why?
With this strategy, you are covering the highest paying spaces. And if a multiplier lands, you will have decent wheel coverage to potentially land that big win.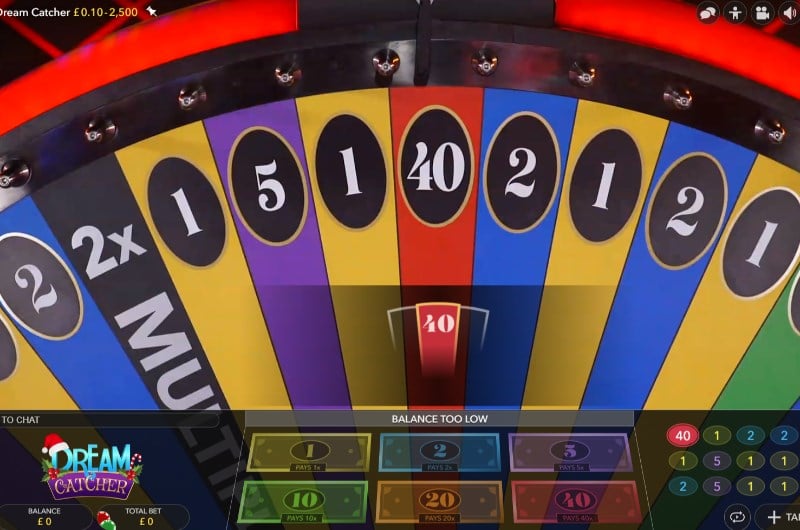 It's a worthwhile Dream Catcher strategy when you consider the possible rewards. A £1 bet on the 40 wheel is £40 all by itself. But if you land the 7x multiplier, that 40x turns into a whopping 280x.
This is one of the best strategies to use. Not only are you getting a decent amount of wheel coverage, you also have the chance to land a big win. The semi risky nature of this approach may put off some players however. Those looking for a safer time will be more interested in strategy #2.
Strategy #2: The Slow and Steady
For this method, we focus on the 1 and 2 segments; betting on these numbers gives you huge wheel coverage. There are a total of 54 segments on the Dream Catcher game wheel. And if you bet on 1 and 2 exclusively, you cover 38 of those segments. That's more than half the wheel!
As an added bonus, you stand more of a chance to take advantage of a multiplier spin. You could compare this strategy to focusing on even money bets in a game of Evolution roulette. The pays are low - but you will have a more consistent stream of wins.
This approach rewards a slow and steady kind of player, who doesn't want to burn their balance out too quickly. If you find the rewards to be too low however, you may want to consider strategy #1. And if you are really risky - #3.
Strategy #3: The All or Nothing
This method is akin to walking into a casino and slamming a whole stack of chips down on a single number bet. As far as Dream Catcher casino game strategy goes, this is the most risky by far. You solely focus on the 20 and 40 segments, with no compromises.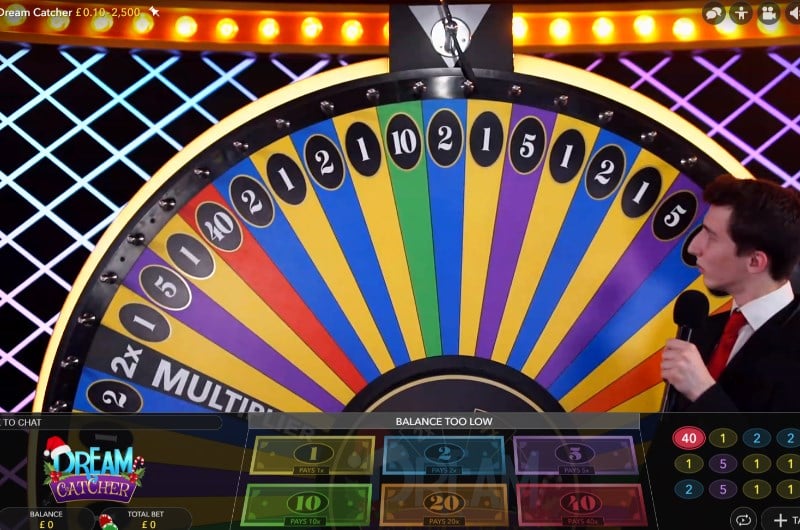 €
These are the highest paying segments on the wheel - and the rewards for a successful bet are attractive. Especially when you take into account the multiplier segments - and the fact they can stack. That 40x bet can become a 280x bet with a 7x multiplier. But if you land that multiplier again, that segment is now worth 1960x.
It's a rare event - but it can happen for sure. Using the All or Nothing, you cover the most valuable parts of the wheel for these special betting rounds. The obvious downside is that your wheel coverage is poor.
In fact, betting solely on these segments means you only cover 3 spaces out of a possible 54. That's only 5.55% of the total wheel. Expect some long waits before this strategy pays out. If you are the kind of person that prefers single number bets to the outside, then this could be a worthwhile choice.
What is the best Dream Catcher strategy?
Honestly, it's up to your personal playing style. There are no guaranteed ways to win at this game. No matter which strategy you choose, this room will still retain it's return to player and house edge. The Spread is probably the best for a balanced approach that takes advantage of everything this game has to offer.
Need some more information on this exciting new game? Check out our
Evolution Gaming
page where we take a look at additional strategies, tips and tricks that you can use.