10 of the World's Most Luxurious Casinos
Which London casinos are ranked highest on the planet and which casinos are they up against? Today we take a look.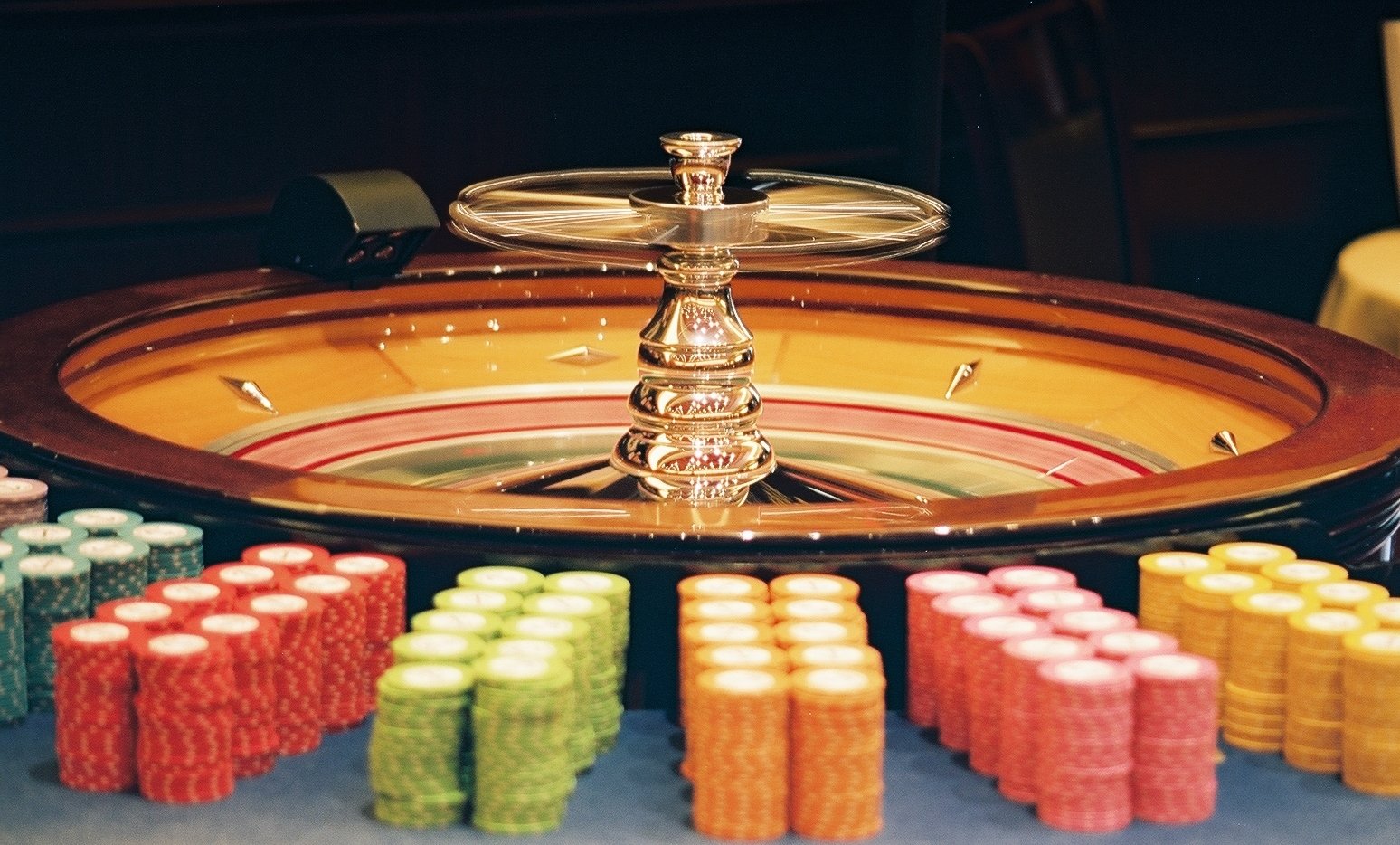 Whilst London has perhaps cornered the market in ultra-exclusive casinos, its clutch of impressive venues in and around Mayfair do not by any means go unchallenged from other casinos abroad. If you want the very best on the planet you'll occasionally need to look beyond the UK capital – but which casinos compete with it and which home-grown venues deserve a place on the World's Best list?
#1: The Bellagio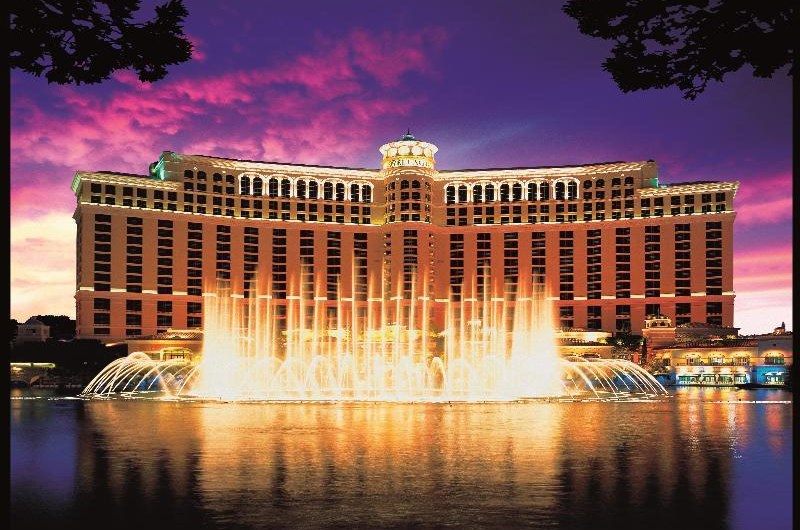 In a discussion about luxury casinos, the Bellagio will spring to the mind of many gambling connoisseurs. The new jewel of the Strip was opened in 1998. And the casino established its reputation for lavishness on its own opening night, which cost in excess of $88million. At the time it was the most expensive hotel/casino ever built.
One of the most outstanding features of the Bellagio is the famous dancing fountains. During the day, their liquid light is overpowered by the regal majesty of the resort. But during the night; this exquisite water show will catch your eyes and never let go.
It's not just the delicious food or the first class service that makes the Bellagio one of the most luxurious casinos in the world. It's the location. Yes, the casino is located smack bang in the middle of the strip. And yes, you can easily reach all of the wonderful entertainment Las Vegas has to offer. But the bustling tourist crowds and dream seekers are non existent. And this is thanks to the hotel remaining quite some distance from the maelstrom of visitors.
#2: The Wynn Macau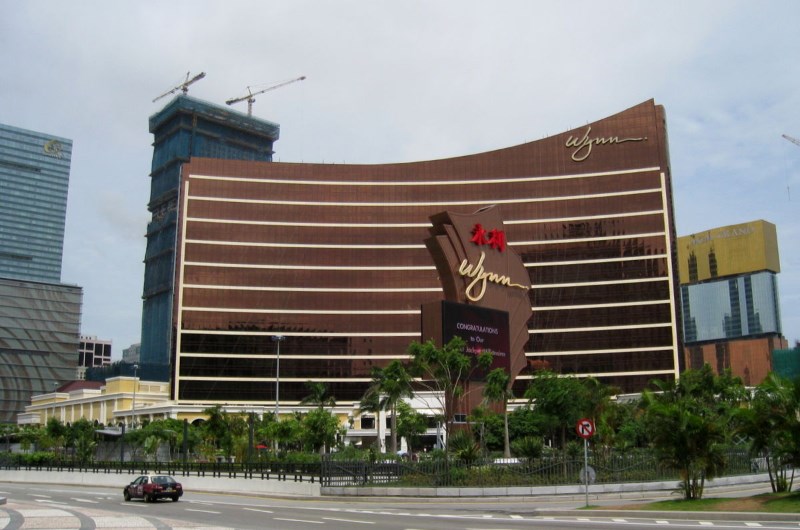 Most European players are totally unaware that a select few of the names on the Vegas Strip also have a presence in Macau, and the Oriental version of the Wynn looks almost identical to its US counterpart on the outside.

It's also just as good on the inside, though we think the Macau venue just has the edge. It's a close call, though, with both resorts offering superlative choice, facilities and style. The staff always seem to be prepared to go that extra bit further and somehow at the Wynn there's a feeling that you're not in a glitzy casino venue but a five star business hotel – not in the public areas so much, but when you're in the rooms there's a feeling that you're being treated as a high-flying weary traveller who needs the best service on tap. It's discrete, efficient and they have a way of always offering you what you want and need without being invasive.

Despite just turning ten years old the fixtures and fittings are in perfect condition, the bathrooms are big enough to hold a party in and once you leave your room the fun really starts. It's got choreographed fountains that are a match for the Bellagio, the most incredible jellyfish tank we've ever seen, eight restaurant choices – two of which are Michelin-starred, two luxury spas with synchronised six hand massage on offer and even a free shuttle service to and from the airport or ferryport.
If that's not enough to convince you, this was the hotel used in the James Bond Skyfall movie.
#3: The Palm Beach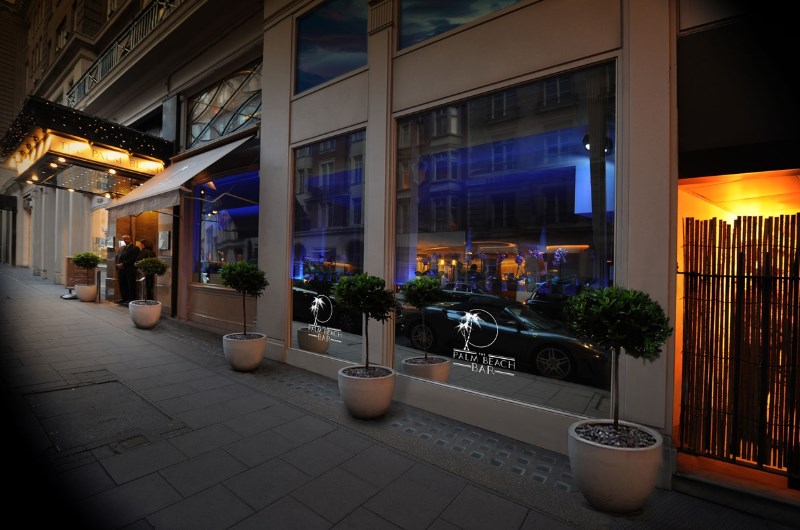 Our next entry from the UK is the Palm Beach.
Anywhere else in the UK would be pushing their luck with a name like this. It's the kind of moniker you'd expect a down-at-heel seaside B&B to use in the forlorn hope of generating more business, perhaps serving up the occasional Pina Colada to back it up.
This casino, though, is owned by Genting and gets their full attention along with stablemates The Colony Club, Maxims and Crockfords.
All of these swanky Mayfair establishments offer top-notch gaming with glamour, exclusivity and premium level service a given – but the Palm Beach has just refurbished its impressive bar area and is consequently looking better than ever.
The main gaming area has always edged this place ahead too, being as it is situated in what used to the ballroom of The Mayfair Hotel. There's even a palm tree-shaped chandelier hanging from the ceiling, which – you'll probably be pleased to hear – is as close as the theming gets in respect of the name of this casino.
In terms of exclusivity, it's a lot easier to gain access here than at some other Mayfair establishments, though the tone is still decidedly upmarket – and we think that's exactly how it ought to be in Mayfair these days. Obviously we don't want themed, Vegas-style erupting volcanoes and waiting staff in grass skirts – but equally it doesn't seem right restricting access to only the privileged few. And no-one achieves a more appropriate balance than the Palm Beach for our money.
But where do you go on a worldwide scale for a similar ethos? There were a number of contenders in fact, and they're all on the Vegas Strip.
#4: The Venetian, Las Vegas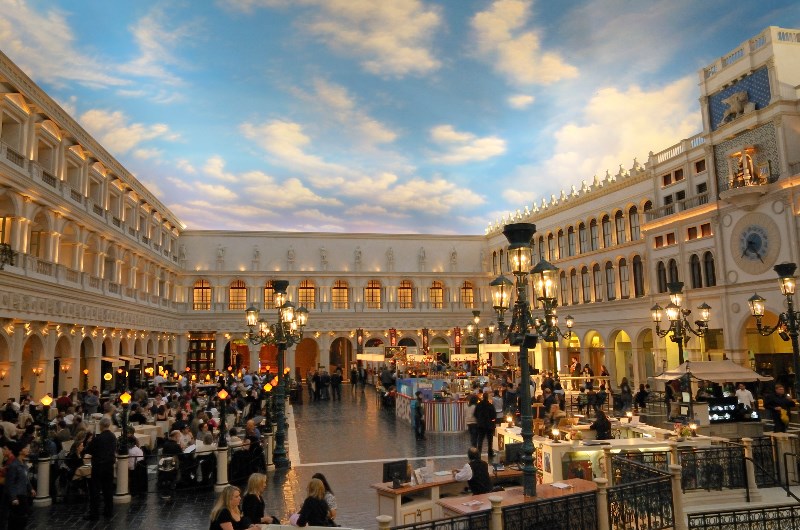 This may seem a little off at first: How can you equate somewhere in Mayfair with anywhere in a resort that prides itself on stealing large chunks of other countries' cultures, architecture and national costumes and transplanting them wholesale into giant, garish casino hotels? That, though, would be missing the point entirely. Vegas is all too aware of what it does, and within its own, bizarre, dreamlike set of rules it's established its own hierarchy and standards of class. It's now perfectly possible to visit a hotel there themed around any number of top European destinations like Paris, Ancient Greece or Egypt – yet once you're there these ideas end up becoming superfluous as you start to appreciate the dining and entertainment options on offer.
And that's why, at the superb Venetian hotel, nobody cares that you're not actually by the Adriatic; nobody cares that the gondola rides take you round a totally man-made set of canals, inside a building and then back out again. Fake it may be, but the casino, restaurant and top name entertainment is not.
Inside, all the rooms are suites. All 5,030 of them. Not only that, but they're all huge, starting off at 630 square feet as a minimum. Each come with three flat screen TVs (one in the bathroom) and a sunken floor living room. You'll probably work up quite an appetite just walking around your suite, which is probably for the best as there are no less than twenty restaurants to choose from on-site including signature eateries from Mario Batali, Emeril Lagasse, and Wolfgang Puck.
The Venetian landmarks don't stop with the canals, either: You'll find the Palazzo Ducale, Piazza San Marco, the Rialto Bridge and more within the complex – which, when combined with the adjacent Palazzo makes it the largest hotel in Vegas and the second largest in the world.
It's also in prime position. If you've never been, you'll be surprised at how long it takes to tour The Strip and whilst the concentration of hotels at its core make it look like a cosy place on the map, it can take hours to get around by foot - so a central location is well worth the extra money.
#5: Crockfords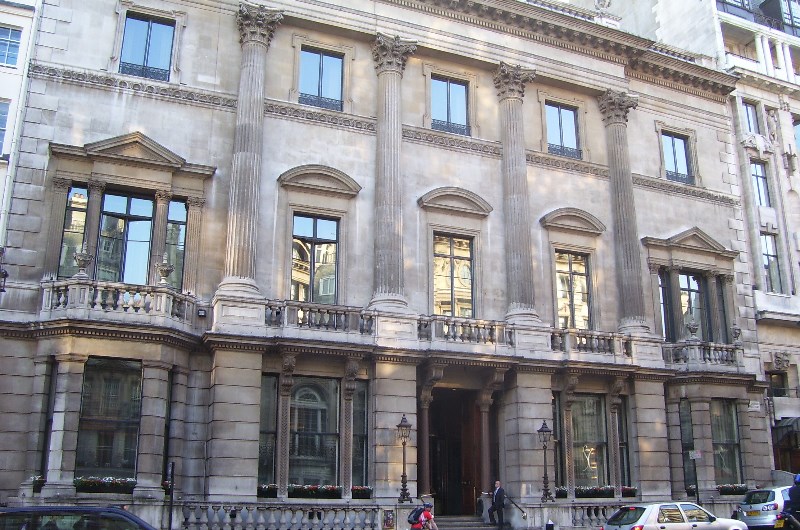 No analysis of the UK casino scene can miss out Crockfords. This notorious - now thankfully properly regulated – pleasure palace has been responsible for the downfall of an endless set of well-heeled titled folk, though that all happened back in the 17-year period after it opened in 1824.
William Crockford was the son of a fishmonger, but even as a child possessed an extraordinary ability to win at gambling. Back in those days there was little in the way of regulation and gaining an advantage at dice, cards or sports betting wasn't as hard as it is nowadays. A little inside information and some carefully-researched sports knowledge could work wonders, and Crockford knew - and invented quite a few of – the tricks of the trade.
After quite legitimately thrashing a prominent London meat merchant at Cribbage he found himself with enough cash to lease premises at 50 St James Street in swanky clubland, and set about building London's finest casino with the best food on offer courtesy of France's finest chef.
During the Regency era there was a surfeit of bored, wealthy young men on the scene thanks to 40 years of uninterrupted peace after the Napoleonic wars - and Crockford knew exactly how much each was worth, sending them private invitations to his exclusive casino where they would be plied with complementary drinks and conned out of their inheritances. There were decoy players who appeared to keep beating the house, rumour-mongers claiming the casino was about to go broke as the players were too good for them, and on top of all that Crockford's dealers often simply used sleight of hand to gain an edge.
The club shut in 1842 and then re-opened much later in 1924 for the purpose of bridge tournaments, though card and table games rapidly appeared afterwards, and after moving premises to fashionable Curzon Street in Mayfair the transformation from illicit upper crust playboy club to reputable casino was complete.
Today Crockfords is fully owned and operated by the Genting empire – Asia's largest casino brand and a reliable capital base to ensure continued high standards. The décor is impeccable and there's Roulette, Baccarat, Blackjack and table poker on round the clock with high stakes and the best dealers in town.
If the name of the club isn't enough to impress you and you feel the change of premises from the original location has taken away some of the place's mystique, you might want to think again. In 2012 poker legend Phil Ivey played Baccarat here and won £7 million; the win was disputed however in the casino's favour as the technique he used (known as Edge Sorting) was deemed an illegitimate strategy.
If Crockfords' name is synonymous with high end, aristocratic fun then surely it stands to reason that there are venues in continental Europe that will offer the same thing – and given its erstwhile penchant for producing nobility of its own – never mind being the most prolific producer economy on the continent - it stands to reason that Germany must have some excellent, upmarket casinos of its own. Which it has.
#6: The Baden Baden Casino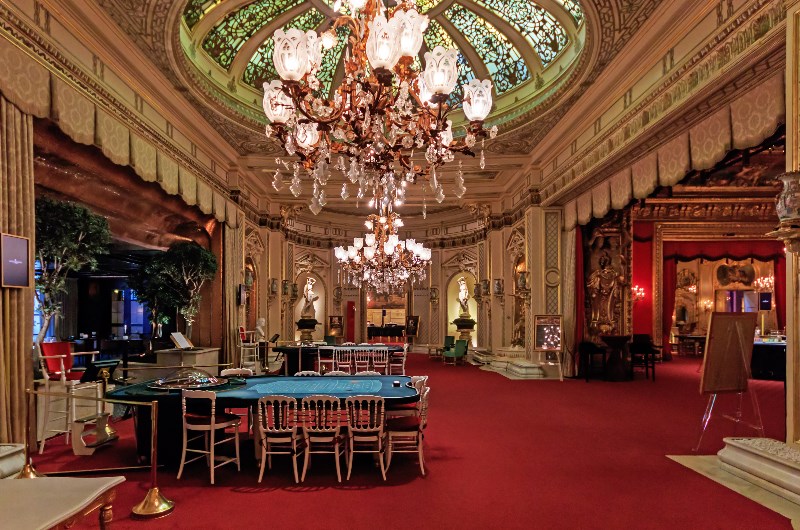 The Kurhaus in Baden Baden is a spa resort and casino in the Black Forest – and it illustrates the German work ethic beautifully by offering up a conference centre on-site as well.
Ironically it started up the same year that Crockfords did in 1824. Architect Frederick Weinbrenner designed a stunning entrance with Corinthian columns and a paired-griffins frieze, and the entire interior was neo-classical. The casino area was of little consequence initially, though when gambling was forbidden in France a few years later players started to drift across the border to come and play.
There's plenty of history to the place, too: Dostoyevsky's The Gambler was inspired by a visit here, and Marlene Dietrich described it as the Most Beautiful Casino in the World.
It's housed international chess, the Olympic Congress and a NATO summit among other things, and it all gives the place a sense of genuine importance rather than a casual opulence; you really do feel as though you could just walk out any time and leave your wallet behind at no risk.
The casino itself offers Roulette, table poker and Blackjack – and after your session there's so much more on offer: Readings by renowned authors under the chandeliers of the Florentiner Saal are not unheard of, and there are also dance evenings and cabaret performances with a varied programme of events on offer all year round.
If the general feel of the Kurhaus is slightly too Germanic for your liking, don't worry: The Sommergarten restaurant offers palm trees and water features for a more Mediterranean feel, and you can then dance off what you've eaten in the highly eclectic Equipage dance, music and cocktail bar.
Being situated in the Black Forest means the Kurhaus has some splendid views – something most London casinos struggle with, though there is one exception and that's Les Ambassadeurs.
#7: Les Ambassadeurs
Another Mayfair stalwart, this club – known affectionately as Les A – has a stunning view over Hyde Park from its prestigious Hamilton Place premises, sat between the Park Lane Hilton and Four Seasons Hotels.
The interior, however, is also a feast for the eyes: The building was bought by Landing International Development Limited in 2016, marking the most recent phase in its history - and they've left no stone unturned in restoring all building's classical features.
The entire premises now looks fabulous, with a no-expense-spared old school charisma that money alone simply can't buy. For anyone seeking stimulation of the soul rather than the senses there's a plush, oak-panelled library that wouldn't look out of place in a period drama, and the best smoking deck of any UK casino. You can enjoy some of the finest cigars on the planet out here if you don't have your own to hand; the floor is heated and there's a bar to help smooth proceedings along. The most impressive touch, though, is the set of custom built wooden privacy screens that are available on demand – perfect for celebrity players, a number of whom can be found playing here from time to time.
Needless to say there are also plenty of private rooms, and again Les A go one step further with a salle privee that even has its own restaurant – and we don't know of anywhere else on the planet that offers such a facility.
#8: The City of Dreams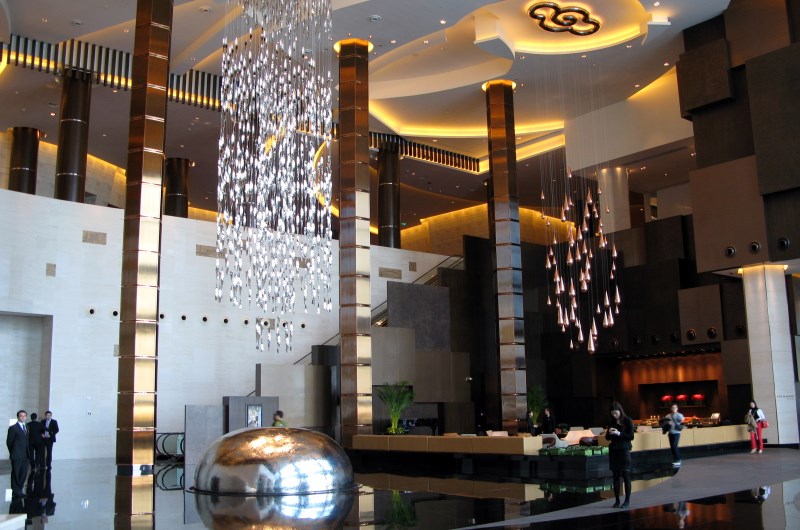 You can, though enjoy some seriously upscale fun at the City of Dreams in Macau.
At first glance this initially garish-looking hotel with 42,000 square feet of gaming may appear to be a complete anathema to anyone seeking the refinement of Mayfair's top casinos, but it actually offers the most refined experience that Macau has to offer and in a town that's second only to Vegas in terms of casino acreage that's a serious boast.
You'll also get incredible views – not of a park but of the entire Hong Kong skyline which even Vegas can't quite match, and there are three towers to view it from as this place is actually home to three separate hotels under one brand:
The Crown Towers has won the Forbes 5 Star Award and offer not just 300 rooms but 33 luxury villas as well. In addition to French and Japanese cuisine and the obligatory luxury spa treatments you'll also find some priceless artworks on display including pieces from Marion Borgelt, Jackie Leung and Hirotoshi Sawada.
The Hard Rock Hotel offers a very different type of branding, but you can still see where the money's been spent: Rooms have circular beds, pigskin-covered furniture, 180 degree views, DVD systems with surround sound, lighting and ambience controls, imported designer rugs, 65 inch flat screen TVs with plug and play technology, on-demand movies and games and much more.
Finally the Grand Hyatt Macau offers unobstructed views of Cotai or the South Bank of the Pearl River. This tower is where you'll also find the biggest suites and the event facilities that the City of Dreams is renowned for.
#9: The Ritz Club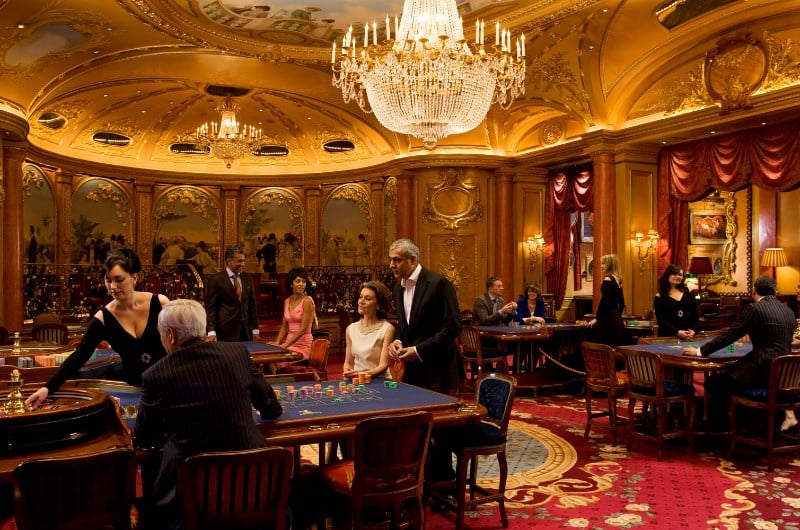 Hopping back to London, one gaming venue that's really been making waves recently is the lavish Ritz Club.
Situated in the world-famous hotel of the same name on Piccadilly, this is gaming at its most opulent thanks to its location in the hotel's former ballroom. Here you'll find Roulette, Blackjack, Three Card Poker and Punto Banco.
The latter is particularly important – not because of the game itself but because they've resisted the opportunity of calling it Baccarat. The game on offer in today's casinos is not Baccarat in the strictest sense, but only the most clued-up and scrupulously honest casinos own up to it – making The Ritz more than just a pretty face.
Guests are ferried in and out by limo, and table limits are £25 a hand except for Roulette - which kicks off at £5. Upper limits are given at the casino's discretion. In addition to the main gaming salon there are three salles privee: The Carmen, Amber and Aida Rooms all offer discrete luxury for those wanting a little more privacy, and given the type of clientele that reside in the hotel it's likely that they're used frequently.
Dame Shirley Bassey is very fond of the club and in 2010 gave an impromptu vocal performance in the Amber Room; Johnny Depp is known to have developed his love of Irish Whisky in the club's bar and still visits whenever he's in town. In March 1987, Aussie tycoon Kerry Packer lost £8 million at Baccarat, playing multiple hands at two tables simultaneously.
#10: Casino Monte Carlo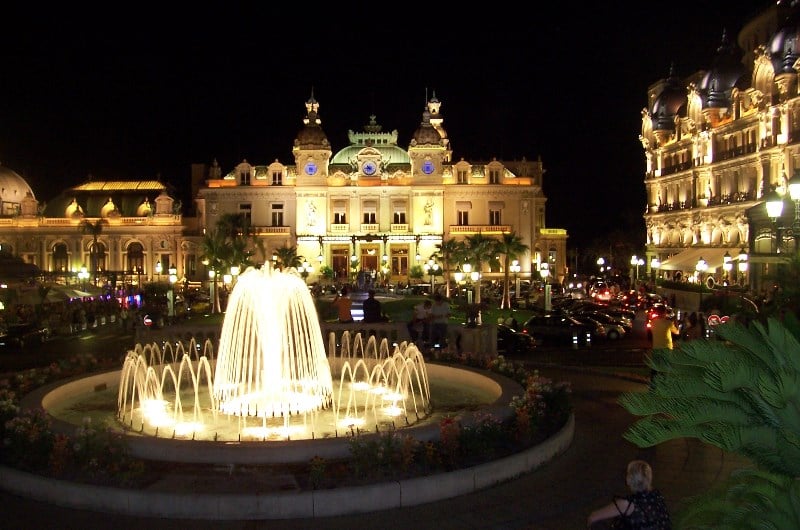 Interestingly another casino with the same pedigree, the same level of lavish décor and their own online outlet also exists outside the UK – we're talking, of course, about the Monte Carlo Casino.
This is hands down the best–located casino on the planet when it comes to scenery. Set high above the ultra-exclusive principality of Monaco you'll get to see the French Riviera in all its glory when you arrive, leave or play in the Salle Blanche and Terrasse.
The main gaming area offers a surprisingly diverse set of games, and where almost any casino with this kind of pedigree in the UK would turn its nose up at more modern gaming innovations like slots and Ultimate Texas Hold 'Em poker, there's no such snobbery here. The Monte Carlo may be over 150 years old and require jackets to be worn after 8pm, but there's nothing stuffy about it.
This is an experience that the UK just doesn't have the scenery or the weather for – and even though Vegas and Macau arguably have both, they can't match it for sheer class and elegance so if you're determined to enjoy a casino experience that is nothing short of unforgettable then we'd suggest a visit to Le Casino. You don't need to use any other name if you're within 20 miles of the place – the cab driver will know where you mean.