The Online Threat: How The West End Continues To Thrive
The Online Threat: How The West End Continues To Thrive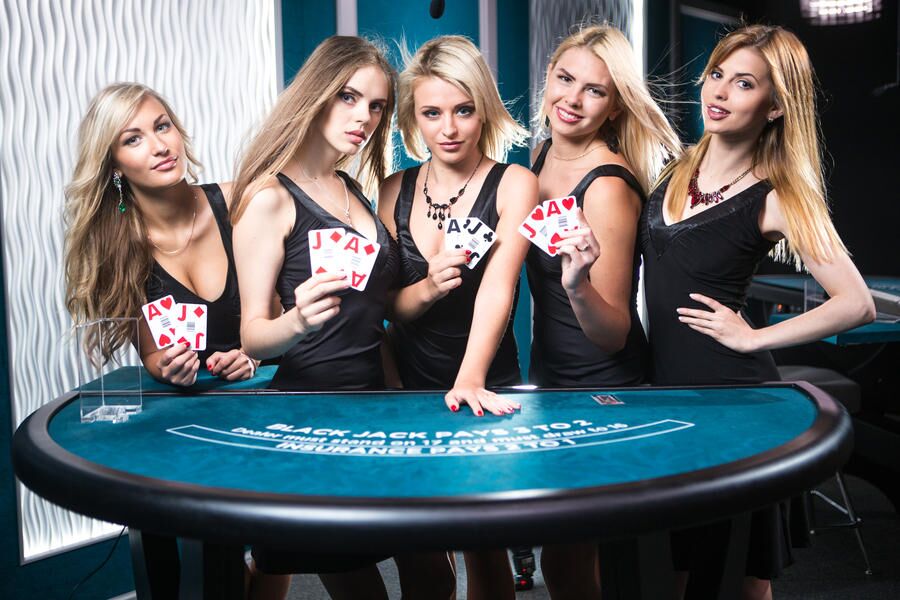 The land casino industry had every right to be up in arms when web-based gaming services really started to take off. With the prospect of virtual casino tables being made available with just a few clicks of a mouse it's hardly surprising they were going to panic.

Their reaction wasn't particularly over-the-top either, given that ideas like live dealer casinos were to subsequently appear, usurping their superiority further and making a trip to a land casino achievable no matter what you were wearing and without the associated bar prices and taxi fares.
A number of pundits told casino owners not to worry: After all, did the VCR kill off the cinema industry as expected? Clearly not, though there were times when the latter had cause for concern and the web does seem to be having a detrimental effect on the music business - though it's hard to quantify and comes with some distinct advantages as well.
Casino dining experiences have improved beyond measure
So what are the casinos of Mayfair and London's West End doing to prevent online casinos destroying them? Quite a lot, as it happens.
Although you won't get a full Vegas-style cabaret in a Mayfair joint – that would be a little over the top by anyone's standards – they are able offer superb dining experiences, which you wouldn't have seen on the same scale pre-internet.
The Grosvenor Victoria is home to the UK's most accomplished poker scene and has a bar, function rooms, coffee shop and a restaurant featuring an Arabic menu. The later seems to be a recurrent theme in the West End, though with such a high proportion of wealthy Arabic clients it's not really surprising – and the Tajine is to die for.
The Hippodrome has every right to offer entertainment other than gambling – it did, after all, use to be a theatre and there are non-gaming related treats round every corner of this fascinating and rather fun venue including smoking, eating and drinking areas. There's nowhere else like it on the planet to be honest, and that alone makes it worth a visit as it's an assault on the senses – mainly the eyes – that can't be replicated at home or on your mobile any more than you can go online and visit the zoo.
The Sportsman is just around the corner from the Vic, but offers a totally different style of cuisine. It's owned by Caesars (the same organisation who own the Palaces in Vegas and Atlantic City) who have plenty of cash behind them and are able to lay on the best. Head Chef Mahmud Zaman won Chef of the Year at the Asian Curry Awards 2015, which tells you all you need to know.
This casino also underwent an impressive makeover in 2015 and now has one of the best-looking bars in London, making the Sportsman second to none on the West End food and drink scene.
Les Ambassadeurs (known as Les A to the clientele) is out of reach for most of us on a regular basis, but if you can gain entry you'll get to hang out in a converted mansion with a walled garden and al fresco restaurant. Other casinos offer similar – if less upmarket – dining, but try and find one with a salle privee that has its own private dining room and you'll draw blanks more-or-less all round. We'd also recommend this place for a post-meal puff:
The smoking deck has underfloor heating, marble-clad bathrooms, state-of-the-art all weather HD televisions, a shower room, plus a Cuban and pre-Castro cigar menu.
It's not just food and drink that makes the difference at a land casino either: For a totally different type of vibe right at the other end of the market try Aspers at Stratford near the Olympic Park. Their casino is huge and there's a decent enough restaurant, but that would be missing the point:
There's also the giant Westfield shopping centre right on your doorstep with hundreds of top brands on offer including Burberry, De Beers, Bentley, House of Fraser, Hugo Boss, Louis Vitton, Prada, Ted Baker, Versace and many more. You won't find this much shopping in even the very best Vegas strip hotel and there are other attractions too like the indoor ice rink and nearby Arcelormittel Orbit Tower slide, making this perhaps the best casino and retail combination on the planet.
Get your winnings in real time
There are other advantages to playing in a land casino too, that the web can never truly compete with:
When you win at an internet casino that's not the end of it. Once you've celebrated the notional improvement to your bankroll you've got to actually get the cash from them. This means using a payment method which will typically be a credit, debit or pre-paid card – and that means you'll have to wait up to five working days to get your winnings. It takes the edge off a big win, and if you're playing with bonus cash then there's the issue of playthrough requirements to deal with.
Land casinos don't really offer bonuses, but web casinos do and if you join one you're almost bound to be playing with a bonus in the initial stages of your career and will have to wager any winnings made using them typically up to 40 times over before you can make a withdrawal.
Compare and contrast with a bricks and mortar operation where you can walk off with a cheque or get a bank credit straight away. It just doesn't compare.
One other aspect of land casino gaming that nobody initially thought would be attractive was the issue of exclusivity. Some players like to join high end land casinos simply because they are so hard to get into. Membership at Les A or The Clermont, for example, isn't cheap but once you're in you can play safe in the assurance that only the most upmarket players are in attendance.
If you want to get dressed up and enjoy a genuine James Bond-style experience then a land casino is the only way to do it – and that will never change, so there will always be a demand for the very best facilities. You'll never rub shoulders with a celebrity if you play online, no matter how much you try and make it happen.
Play online at the world's greatest if you can't make it in person
Some of the most exclusive casinos have actually embraced the web instead of seeing it as a competitor, and have launched their own online services. You'd expect this type of idea to come from one of the more modern casinos, but nothing could be further from the truth:
Crockfords is London's most notorious casino thanks to its founder's ability to cajole and cheat wealthy clients out of millions. It's a properly-regulated establishment nowadays but still attracts the beautiful, the famous and the obscenely wealthy –and you can play with them online thanks to their ownership by the Genting group.
Using Genting's funds and technical expertise Crockfords is now available through the Malaysian-based group's website and you can enjoy VIP Roulette, Blackjack and Baccarat Squeeze. The latter is of particular interest as the dealer uses finely-honed skills to gradually reveal the cards after bets have been made and all cards have been dealt. It's not an easy thing to do and requires quite a bit of practice but we don't know anyone else who'll do it live on the web for you.
In case you're concerned that Crockfords' gaming salon is now full of TV cameras, don't worry. They use a set of perfect replica rooms to recreate the experience in all its glory and it's every bit as impressive as playing there for real.
A similar approach has been taken by another legendary casino venue – that being The Ritz. Situated in the world-famous Piccadilly hotel it's quite something to look at with the main salon ceiling giving the Sistine Chapel a run for its money and the rest of the fixtures and fittings following suit.
This is the hotel that Lady Thatcher spent her final years living in, and though it's unlikely you'd have seen her in the casino it gives you an idea of the kind of place you're dealing with. Playing here for real enables you to enjoy the limo service that takes you to and from all major airports and stations, and table limits are £25 a hand except for Roulette - which kicks off at £5 so it's not totally unaffordable by any means. Leading off from the main area are three salles privee which have played host to the likes of Dame Shirley Bassey, Johnny Depp and Aussie tycoon Kerry Packer.
As with Crockfords, The Ritz's online experience won't have any impact on guests in the hotel premises – that would be truly vulgar as far as they're concerned, but they'll be offering an upmarket online live table gaming product in 2016 which will compete not just with Crockfords but also the famous Casino Monte Carlo – who also have a web-based service, so it would seem that some of the classiest names in the business are also some of the most forward-thinking.
A bigger share of a bigger market: Everyone's a winner
The biggest boon to land gaming from internet services, though, is that fact that the provision of web-based live games has enabled growth in both online AND live casino receipts. This is for a couple of good reasons:
Firstly, if you play online in a live casino studio regularly you'll get used to being in that environment and will consider it to be normal. You'll therefore most likely at some point want to start chatting to dealers and other players for real rather than using a chat box, if indeed there is one available. Streaming services from the likes of Playtech and Evolution Gaming offer it but not all others do, so you may be missing this crucial, social element to your game completely in which case a land casino experience is your best bet.
Also, if you're playing online how are you meant to celebrate a win? A huge victory will earn you a 'well done' from the croupier and you'll be inclined to leave a large tip, but the experience is vastly improved at a land casino where potentially dozens of players will be on hand to join in the festivities alongside you. You may even find yourself gaining attention from the opposite sex to boot – just as everyone has their 15 minutes of fame, everyone's entitled to their James Bond moment in life too, and if it can't happen in a casino then where can it?
The best thing about playing online, though is the chance to learn the ropes. Some players learned how to play table games by approaching the croupier and asking them what to do; others learned by watching tuition videos in Vegas hotel rooms, whilst others had the knowledge passed down to them.
Millions, though, are seriously intimidated by the whole prospect of turning up to the table full of people who seem to know what they're doing and this is where the web comes in handy. To learn the rules you don't even need to play live – just pick a virtual table and get going in practice mode without even making any wagers. Then, once you've picked it up you can approach a live room and join in the fun. It's impossible to make yourself look silly and as they use virtual betting grids combined with real wheels and cards the software will prevent you from making any illegal bets.
This is a brilliant way to hone your skills, and then when you turn up at a casino for real you'll know exactly what to do and you won't suffer any embarrassment or nerves whatsoever. This is what has enabled millions of players to get more out of a visit to Vegas and other top-notch casino resorts; instead of sitting on the sidelines playing slots and videopoker they've been able to play like a grown-up – and the casinos are thanking the web enormously.