Starburst Slots RTP: Why does it matter?
Find out the Starburst RTP and learn why return to player is an important percentage.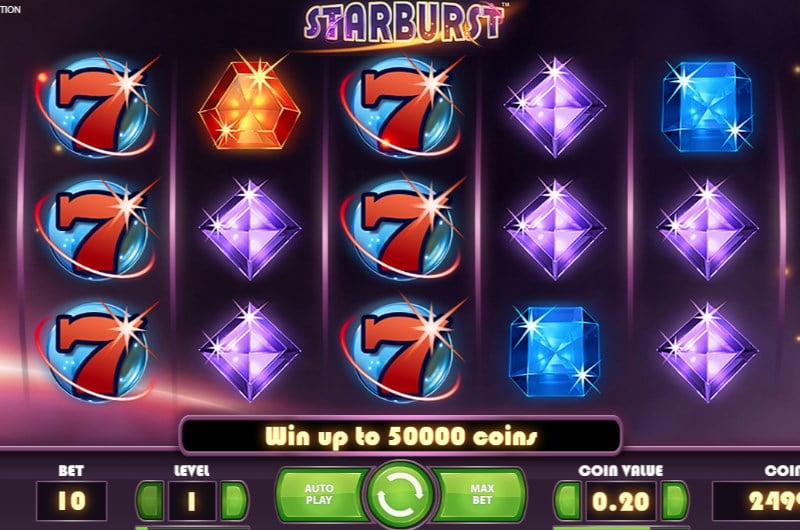 The Starburst slots RTP is 96.09% - but the concept of return to player is a subject many players fail to understand.
There are MANY misconceptions with regards to RTP. And usually, new slots players will seek out games with the highest RTP. Even without knowing what it actually means. Bigger is better right? Surely you can win more on a slot with a higher RTP? The first statement is somewhat correct - the second is completely false.
RTP is a tricky area to explain. And in all honesty; it's an area most online casinos want to ignore completely. Because it's not the most fun thing to explain - and it can get confusing. But once you understand the concept of RTP - you will know what to watch out for. And how to manage your own expectations.
Return to play explained
RTP stands for return to player. This is typically expressed as a percentage. As we have mentioned,
Starburst
has a return to player of 96.09%. But what does it mean? In summary, it's how much a game will pay back to you over a certain amount of time. Developers like NetEnt and IGT will program each of their slot games to be random. This is all thanks to an RNG algorithm - which stands for random number generator.
These developers have some control over this algorithm. They can tweak it so a slot triggers wins more frequently... or triggers more losses. This programmed percentage is essentially the casinos/developers cut of wagers made on the game. The RTP is usually tested with thousands of spins to ensure that the slot isn't paying out too much - or too little. This is a regulatory requirement that the developers of the game have to abide by. If you ever need to find a slot return, then you can check in the pay table - or in the game's support section.
Return to player example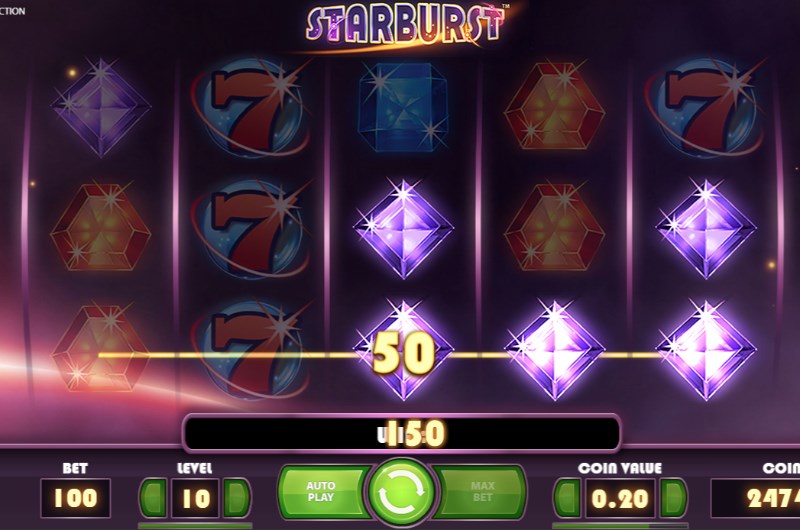 Let's take Starburst again as an example. You play the game for 100 spins and spend £100 in total. And for this example, let's say in these 100 spins, the 96.09% return is accurate. Over those 100 spins, you can expect to see £96.09 back. That £3.91 loss you have made is what the casino/developer will take as their commission. But expecting this return to player to apply on just 100 spins is not realistic. As each spin is subject to the 96.09% RTP, you could actually lose much more.
It's important to note that the return can also be positive for a slot - in the short term. And that also means that you could win a lot more. Let's say you start playing Starburst - and on the sixth spin, you trigger two expanding wilds and bag a massive win. The return to player for the slot at the time could be well over 500%! But as you play the game for an extended period of time, you will eventually get closer to that 96.09% return percentage.
Should you look for the best RTP slots?
Let's return to our two misconceptions of RTP that we made at the start of this article. This way, you can better understand what you should be looking for when you are seeking a slot game.
Bigger is better right?
Yes, a bigger RTP slot is better. But the fact still remains that you still stand to lose over an extended period of time. If you pick a slot with a high return, however, the game will have less of a statistical advantage over you.
Surely you can win more on a slot with a higher RTP?
Return to player is nothing to do with the size of your wins. In fact, it's more about the casino's advantage. But this shouldn't deter you from enjoying a spin on
NetEnt slot machines
. It's all about playing for those moments where the game does decide to award a big win - and then quickly cashing out.
Starburst Strategy & Cheats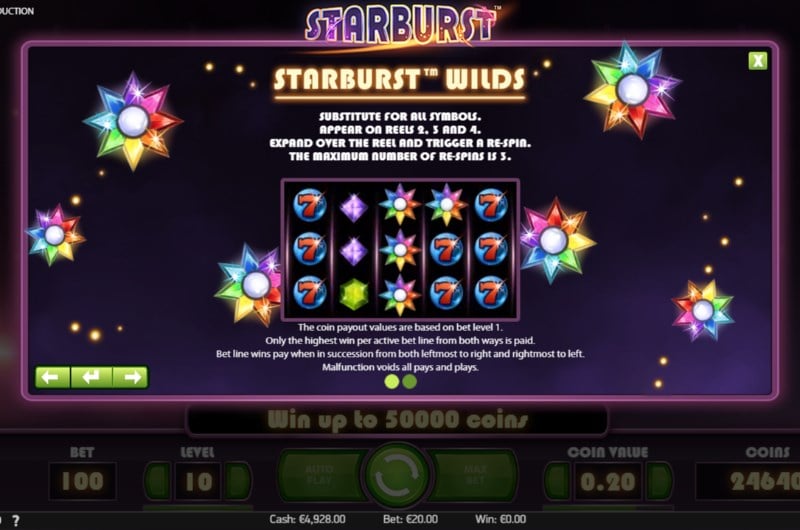 Now that we are aware of return to player and the implication for our gameplay - is there a way to plan a strategy to beat the game? While there is no way to convince the slot to pay out more - we can come up with a few ways to make the game more enjoyable.
Want to win big? Bet big: Low-value bets will produce low value wins. If you want to grab that big prize and cash out, then you are going to need place near max sized bets.
Make your gameplay more comfortable with autoplay: If you want to play for a long time, you don't want to be manually pressing the spin button. It will become annoying fast - you may even feel like you are starting to go insane! Consider activating the autoplay option to make your life a little easier. You can even set stops for losses and big wins - or if the main bonus feature triggers.
Play on mobile for more comfort: Smartphones and tablets really have changed slot gaming for the better. It's so much more comfortable to just enjoy some Starburst slots on your mobile device. Consider switching from your PC or laptop to a far more portable playing experience. This way you can also enjoy your favourite games on the move too.
If you need more information on the
Starburst RTP
, then we have compiled a whole section of tips and strategies for this excellent NetEnt slot.