Starburst Slot Tips
We reveal proven Starburst slot tips that will enhance your love of NetEnt's classic 10 payline slot!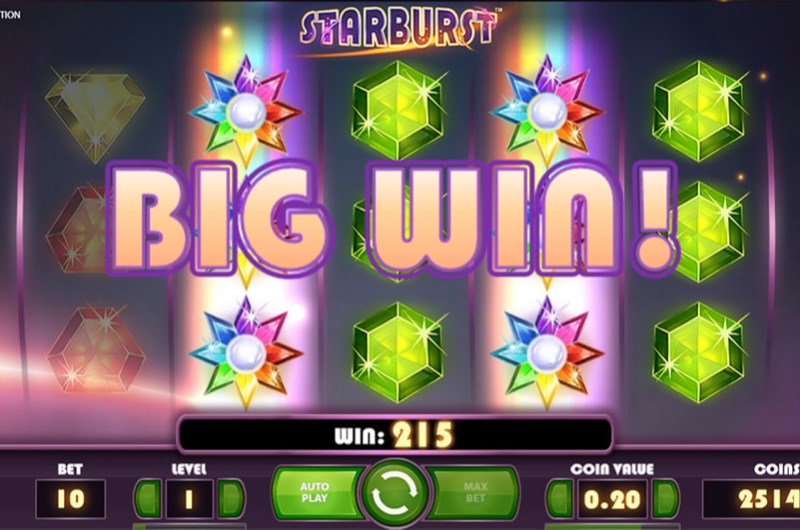 If you're looking to improve your slot playing game - then you will want to pay special attention to Starburst slot tips.
We reveal secrets and strategies that will help you extract more enjoyment from your gaming sessions, with just a few simple tweaks. Here are some of our best tips to play Starburst:
| Tip | Why it works |
| --- | --- |
| Play at the max bet level | By playing max stake, you qualify for the biggest prizes in the game |
| Use autoplay for long sessions | Autoplay lets you play Starburst automatically - you can even set loss limits to fully control your spending |
| Try Starburst on mobile | Playing on a mobile or tablet offers the best Starburst experience available |
You can employ these tips here at London's finest casino - or if you're playing at another site.

Starburst is of course the massively popular 10 payline slot from Swedish developers NetEnt. One of the more simple slots to play online - the space like theme, crisp 3D visuals and punchy special effects have been wowing players for almost 6 years.
But the game doesn't just take the gold medal in the looks department; it's also one of the most mechanically sound games out there.
Instead of a traditional free spins bonus round, this game opts for a wild feature that could be considered to be out of this world.
The wild symbols can land on any of the central 3 reels, instantly expanding to form a wild reel. The slot will then re-spin at no extra cost - and up to 3 re-spins can take place within a single feature.
This makes the slot an interesting and desirable proposition in the world of online slots.
Starburst Slot Cheats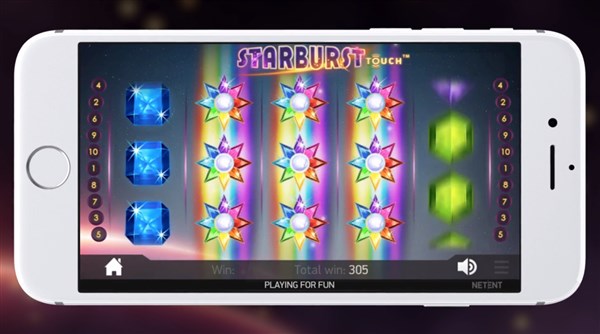 Let's be honest; we have all thought about
Starburst slot
cheats somewhere down the line. Just imagine having the power to dip your hand into the game, change the code and make the next spin a winning one.
Or if you could all of a sudden enter a cheat code and instantly trigger the bonus round - as if you are in a video game. As nice as this sounds, there is really no way to cheat a slot machine, such is the sophisticated technology used behind each game.
Even if there was a way to cheat a casino out of money in this way - we're pretty sure there would be some legal ramifications involved!
What you need to know about slot machines is that each game is developed with an RNG component; this stands for random number generator - and it's how the game generates random outcomes with each and every spin.
Games companies and the respective casinos promoting the game have to ensure that the game is perfectly random for regulation purposes. In summary; it's impossible to fix the results of an online slot machine.
So instead of praying for some way to plug ourselves into the matrix one day, we are going to have to make do with some more
legitimate strategies that work
. Here's just a selection of things you can try next time you dip into the classic
NetEnt slots game
.
The biggest wins come from the biggest bets: there are two ways you can realistically approach playing online slots. You can either opt to make lots of smaller bets - or play fewer, much more valuable bets.
How much you can win really does scale with how much you bet - and when playing small bets, it can feel like your balance is slowly being chewed away. One strategy you can try is to incrementally increase your bets as you win - potentially even banking a portion as what you would consider "profit".
When it stops being fun, stop: gambling is supposed to be a fun, entertaining pastime. It shouldn't upset you, make you angry or make you want to throw a chair in frustration. If you are playing an online slot and want to swear at something for your lack of luck - then we suggest going out for a long walk or doing something else that makes you happy.
Cooking, spending time with family, writing a novel - just give the games a break. When you return to your gaming, you are sure to enjoy it a whole lot more. One of the best Starburst slot tips we can offer.
Playing for a long time? Use autoplay: if you want to enjoy a long session but don't want to necessarily watch every single spin of the game - then you can take advantage of the autoplay function. Autoplay is exactly how it sounds - the slot will play automatically until certain conditions are met. What conditions exactly?
Well, you can set the game to stop after a certain win amount or certain movements in your balance. You can also choose to set a stop if you have lost a certain amount of cash. All in all, the autoplay is fantastic for power players who want to automate their play time.
Get even more comfortable with mobile: modern technology continues to impress with every passing year. And mobile casino has given us access to our favourite games and slots no matter where we are.
The biggest advantage of playing mobile is the fact you don't need a massively expensive computer setup - nor do you need to sit in an uncomfortable position for near hours on end. With mobile or tablet, you can just sit on your favourite couch, recliner or sitting position and spin in ultimate comfort!
How to play Starburst Touch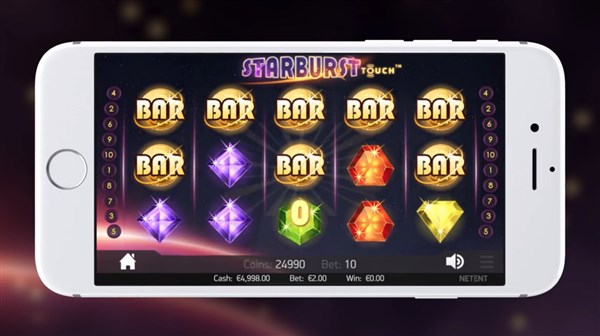 Want to know how to play Starburst touch? Perhaps you are even wondering what this version of the game is. Put simply, it's the smartphone and tablet friendly version; with tweaked touch controls for increased playing enjoyment on mobile.
This includes a more finger friendly spin button, more easily accessible menu and a quick button to return to the casino lobby. You can also hold the spin button to activate the auto play feature. But how do you get access to the mobile friendly version of the game?

Visit your favourite casino on mobile: doesn't matter if you are using your smartphone or tablet device; just head to a casino and login using your details. Some casinos offer a mobile app, in which case - launch the app and login with your details as you normally would.
Find the mobile Starburst slot: this slot game is virtually popular every day of the year - so finding it shouldn't pose a problem. Simply go to the popular games section and you should see it; you can also search for the game using the search bar. And if your casino doesn't have a search bar? Well, we would be looking for a new site!
Tap and launch Starburst touch: yes, it's that simple to access the mobile version of the game. Once you have the game on your phone, you can enjoy one of the best online slots in the world today from the comfort of wherever you feel like. You could play going to the shops, whilst on the train or even in the bath - just remember that most phones aren't bath proof!
Starburst Slot RTP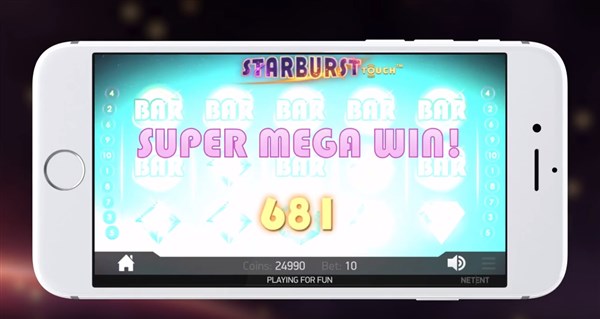 Online slots always have an RTP - and this acronym stands for "return to player". In short, this value is what a player can expect to receive back from the slot on every bet round. This value is described as a percentage - with higher returns expected to pay more back to players.
So you might be wondering what exactly is the
Starburst Slots RTP
. The average return to player on this game is 96.1%, which is actually higher than what is considered average for online slots. Typically, most games will have a 95% return to player.
To explain RTP, imagine you have put a £1 in a slot machine - and the machine has a return to player of 80%. Using the pound example, you should expect to receive back at least 80p from every bet - right? Well, return to player is actually more complicated than this.
The theoretical RTP is actually calculated by simulating thousands of game spins. Over a short period of time - your return could actually be significantly higher. Or - it could be much lower. Point is: RTP is actually a more reliable indicator over a vast amount of spins
But let's go back to our original example: a slot with an 80% return. With a game like Starburst and a 96.1% return - you can actually expect to receive at least 96p on each bet - which is significantly better.
Starburst Game Strategies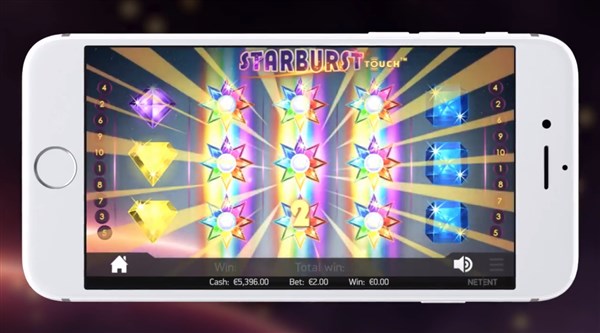 Looking to spice up your gameplay? Then you could enhance your gaming experience with Starburst game strategies. While none of these strategies are foolproof with a totally random slot game, they can certainly add another dimension to your gaming.
Leveller: this strategy involves raising your bet by 2 levels after 5 back to back losses. This process repeats with every 5 consecutive losses. On a win, the bets reset.
Booster: with each loss, you raise the bet 1 level up to four levels above the base bet. After a win, you return back to the original bet amount.
Jumper: Like the booster strategy, but in reverse. After each win, you raise the bet level by 1 - reaching up to 4 levels in total. After a loss, you reset the bet level.
Starburst Demo
One of the most coveted tips we can share with you is taking advantage of the Starburst demo mode. Also known as free play mode, playing a slot in demo mode allows you to play the game as if you were playing with real money.
This means you can experience the various bonus features free of charge - giving you a golden opportunity to practice on the game for absolutely free. To launch a game in demo mode, you simply need to do head to your favourite casino site and locate the game.
Then you need to either hover over the slot (if you are using a PC) or tap on the icon (for mobiles) to find out if you can launch the game in demo mode.
You may notice that opening a game in demo mode is virtually the same as opening a game in real play mode. You have a balance, can actually play and win on the slot and can even change the settings; if you wanted to, you could even set the game in autoplay mode!
However, if you do want to try this slot for free, then you may want to consider Starburst slot free spins instead. Not only can you still play the slot for free - but you actually have the chance to win something.
Playing a slot in demo mode can be somewhat of a gut punch, especially if you play a spin that actually turns out to be a big win! With no deposit free spins - you can play and still benefit from such luck.
Free spins also give you the rare opportunity to experience a casino for free and not have to worry about any niggling strings attached. That's right, you can play your spins and then leave the site several minutes after if you do not enjoy what you see.
With a free play slot, you can not experience everything the site has to offer. As you can see, free spins are usually the superior method to play Starburst free - albeit a slightly slower method.
Starburst Slots Bonus

Your free spins will be credited to your account within seconds! This bonus is only available to new registering players and there is a maximum win conversion of 4x the bonus value. To withdraw the bonus, you must complete the wagering requirements which are one hundred times the bonus value.
Further terms and conditions apply; see promotion page for details.
Frequently Asked Questions
What is the best way to win Starburst?
To give yourself a higher chance of winning Starburst, lower your bet level and play for longer play sessions. In theory, this will let you last longer - and therefore you will be able to enjoy more betting sessions. With the chance to play for longer, there's a higher chance you will win.
How to win big playing Starburst?
The best way to win big playing Starburst slot is to make the maximum bet. By playing the slot at the highest level - you qualify for the best prizes available in the game. If you can't play the biggest bet possible - then drop down to a level you can afford.
Is there a way to win Starburst every time?
No, there's no guaranteed way to win the Starburst slot machine. This is an RNG slot game - with random results on every spin to keep it fair for players.
What are the top tips for playing Starburst?
If you want to qualify for the biggest wins, play the highest possible bet level. You can automatically play the game using autoplay for longer playing sessions. And finally, Starburst is available for mobile play - meaning you can take the game wherever you want.