Starburst Slot Review
Starburst slot review updated for 2020; find out about the classic NetEnt slot and claim the latest no deposit bonuses and free spins!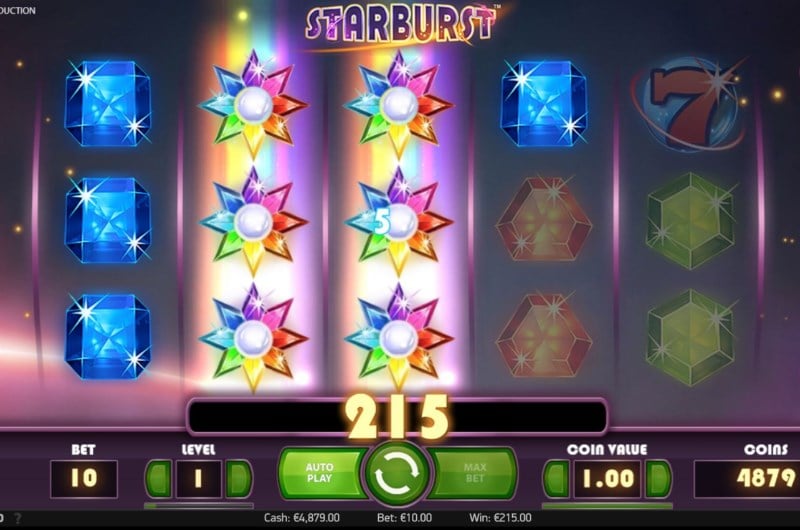 Reading a Starburst slot review is a fantastic way to get all of the essential information needed to play this classic NetEnt slot. A quick search online will reveal hundreds of websites ready and willing to share their opinions; this game has many fans and they are not afraid to speak up about it! In our own review, we will not only give you some reasons why you should play - but also some honest negative points which might put you off.
Before we dive into the points of the review, let's address the game basics. This is a 10 payline and five reel slot game from Swedish developers NetEnt. The game was originally launched in 2012 to a tepid reception - but in recent years, has become one of the hottest properties in all of online casino. In terms of theme, the slot features an attractive space like design which contrasts nicely against the sparkling gemstones that are the game symbols.
While the game is indeed a 10 payline slot, you effectively get double the paylines due to the win both ways mechanic. Most slots will pay from left to right only - but this slot pays from right to left as well. The slot also doesn't really feature a traditional free spins bonus. Instead the main game feature relies on the wild symbol. If this colourful symbol falls on to one of the three central reels, then the feature begins. The symbol will expand covering the entire reel and trigger up to three respins. This is a far cry from other bonus rounds focused on the ultra rare appearance of scatter symbols to activate the bonus.
Starburst Slot Machine Review
We're just going to be upfront with you: our Starburst slot machine review is a positive one. In truth, we absolutely love this game - and that's part of the reason we give all new players 10 no deposit free spins to give it a go. But why exactly do we think this is one of the best NetEnt games out there? Several reasons actually.
Super easy to pick up and play: Yep, this is one of the most simple slots to learn and play. That means it's absolutely fantastic for beginners or for those who just want a relaxing spin. In a world where slot games are progressively cranking up the complexity in order to engage players - this slot game is a breath of fresh air. With no need to worry about multiple and rarely activating bonus features, you can enjoy the game at your leisure!
One of the best looking slots out there: NetEnt have a habit of creating gorgeous games. But even compared to their vast catalogue, there is something special about this game. The 3D symbols are expertly designed and the Starburst wild is one of the most beautiful symbols you are likely to see in any online slot. And it just keeps getting more beautiful when it expands and starts the feature!
Flawless on mobile: In all honesty, we think NetEnt anticipated the mobile revolution - and built the game knowing full well that it would be fantastic on tablet or mobile. And it really is - the touch version of the slot is the very definition of finger friendly, giving you an unparalleled playing experience overall.
As you can see, we're simply gushing with praise - but no game is perfect and we wouldn't want out
Starburst slot
review to be a one sided affair. So here's a couple of reasons why you may want to consider other options.
It's a low variance slot: That means you are going to be winning often - but the really earth shattering wins will be far and few between sadly. This isn't ideal for more experience players who prefer much larger rewards and payouts.
No free spins or randomly activating bonus rounds: The lack of free spins is certainly a strange prospect in online casino. You can remedy this by claiming some no deposit free spins, but in terms of spins that activate in the game? You're fresh out of luck we're afraid.
Starburst Slot Tips
If you're still reading after acknowledging the few minor niggles with the game, then perhaps you would also benefit from some Starburst slot tips to further improve your playing experience. Here's just a few strategies the next time you play.
Big wins come from big bets: With any online slot, your reward scales with how much you bet. If you play the highest bet you can, you will be eligible for the biggest wins. If you play low bets, then the payouts will scale accordingly. Depending on your budget and the risk you are willing to take, you have ultimately two ways to play available: you can either choose to play low bets and play more of an endurance game. Or play max bets and hope to score big wins. Whichever strategy you choose, we recommend always trying to withdraw cash you would consider to be "profit".
Want to spin for a while? Use autoplay: Our fingers are amazing things, giving all sorts of ways to interact with the world. However, smashing the spin button for the hundredth time could make even the most hardened finger crumble. So give those digits a rest and set the slot to auto play. Not only can you set how many spins the slot plays for - you can also set it to stop when certain conditions are met - for example if a win exceeds a certain value.
Want to spin manually? Use turbo mode: If you do prefer the good old fashioned way however, then you might want to consider the turbo play option - which makes every spin much faster, allowing you to cram even more betting opportunities into your gaming sessions. If the Starburst slots you are playing doesn't feature a turbo spin, then you can also manually spin fast by tapping your screen again once you have spun or by clicking the mouse key again.
Starting to get frustrated? Take a break: When gaming starts to make your blood boil, then perhaps it's time to look at doing something else. You could go for a walk, cook some nice food or spend time with the family. Just take your mind off of casino games for a while - then you can return with a refreshed mind and hopefully - lady lucky will be feeling more generous too! With this tip, you also don't have to worry about getting burnt out on your favourite slots, which is a common side effect of playing a game far too much. Gambling should always be a fun pastime, not something that makes you want to throw your phone out the window.
Starburst Slot Cheats
If you have ever played a video game - you will know that some allow you to input special cheat codes to unlock bonuses or portions of the game. And that is often what players hope for when searching for Starburst slot cheats; some magical way to get into the game and change their luck for the better. Wouldn't it be nice to guarantee that next spin was the 50,000 coin maximum win? Sadly, we are not in a video game and online slots don't actually work like this. The games are programmed with sophisticated technology that ensures random results each and every time.
This RNG component stands for random number generator and it is required in online slots for regulatory purposes. Because of this, it's near nigh impossible to cheat an online slot game - and even if you could, there would surely be some kind of legal action. That is why it is best to look at other ways to enhance your slot game play. And aside from the tips we have shared above, you could also adopt slot strategies instead. Here's a few you might want to try:
The Leveller: This strategy is similar to the popular Martingale strategy used in online roulette games. In summary, every 5 back to back losses, you raise your bet by 1 level. The process repeats with every 5 consecutive losses. The bet resets when you win. This has the potential to win your losses back by increasing the bet value - but it assumes you have pretty deep pockets.
The Booster: A more incremental strategy, with every loss you boost your bet up to 4 levels, continuing to play with the increase bet until you win. Once you do win, the bet reverts back to the original level. Similar to the leveller, this strategy also once again assumes you have a big budget.
The Jumper: This is virtually the booster strategy but in reverse. After a win, you will raise your bet by one level up to four times. When you finally lose, the bet level resets.
Want to know how successful you could be with these strategies? One thing that many a Starburst slot review will recommend is using the demo mode feature. Also known as playing for fun mode, this version of the game lets you play NetEnt's classic slot for entirely free, giving you the chance to test the game features and different strategies if you so wish. A more popular option to try the game for free is to use no deposit free spins - which many casinos will offer as part of an introductory bonus.
Starburst Slot NetEnt Game
A topic of many online slot reviews ask what is the best way to enjoy the Starburst Slot NetEnt game. Sure, you could use a desktop computer or even your laptop - but these can often be uncomfortable and inconvenient options. The former option in particular, is a relic of the past alongside downloadable casino clients. What we want these days is something fast, modern and allows us to enjoy our favourite games the way we want to enjoy them. Enter the smartphone and tablet aka the best way to enjoy modern slots.
What's so good about these devices? It's the unparalleled flexibility and comfort you can enjoy. With a PC, you either have to sit at an uncomfortable desk or workstation. Or if you have a laptop, slowly but surely cook your lap from scorching hot computer components. Then there's a mobile device, which you can comfortably take wherever you wish to go. You can enjoy your favourite games on your couch, whilst in bed or even in the great outdoors. You can even play your games while doing chores around the house - we don't really recommend aiming for a big win while doing the dishes though…
To close our brief Starburst slot review - we will say this is by far NetEnt's best game by a square mile. Fast paced gameplay, addictive action and beautiful graphics - it's hard to believe that this was a slot released in 2012. "Ahead of its time" is a fair way to describe this masterful slot. If you want to see what all the fuss is about then we have a special treat for you. Mayfair Casino are currently giving all new players the chance to play this amazing slot - absolutely free of charge. Simply sign up to the site and validate your mobile phone number to instantly get access to 10 no deposit free spins!