Starburst Slot Demo
Want to play slots for free? We show you how to take advantage of the Starburst slot demo...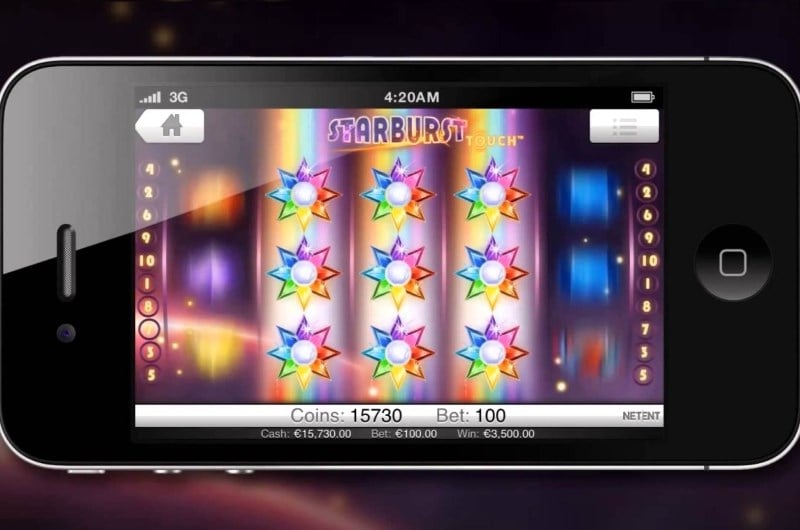 You can't really lose with a Starburst slot demo. Not only do you get the chance to play one of the world's best slot games - you also don't have to part with any cash whatsoever. That's a win win situation - and a reason why demo games are always popular. Here we will show you why you should give demo slots a go - and even show you some alternatives.
But what exactly do we mean by demo mode? Most reputable casinos will have two versions of a slot game; a real money version - and a free version that you will usually only find if you are not signed into the site. The demo variant of the game plays in the exact same way as the real money version; you have a balance, can change settings and even win!
The caveat with a demo mode game however is that none of it is real; that big win you just racked up? Sadly, you won't be seeing that cash in your bank account - it's just digital fun money - the equivalent of Monopoly dollars. Having said that, demo games are excellent for practice and can be used to get familiar with an online slot. As you will find out however, there are some even better ways to play slots for free and win real money.
Starburst Slot Machine
If you're new to online slots, then you won't know much about the
Starburst slot
machine. Developed by NetEnt, this is a spaced themed 10 payline and 5 reel video slot that has exploded with popularity in the past few years. The sheer simplicity of the game, the world class presentation and gripping mechanics have all contributed to the slots amazing success story. This is why you will see this game virtually at almost all decent online casino sites.
And while other modern slots may progressively get more complicated and difficult to understand, NetEnt's classic game is content with just one primary bonus feature. And it all starts with the wild symbol; if this very colourful symbol lands on the three central reels, then it will immediately expand to fill the entire reel. A re-spin is then awarded for another potential win. If another wild symbol lands, then the process repeats.
In total, the slot can re-spin up to three times - and the most lucrative wins are awarded when all three central reels are filled with the wild symbol. This feature has resonated with the online casino community - who don't have to wait a countless number of spins for a certain combination of bonus activation symbols to land.
Play Starburst Slot Free
With all of this in mind, it's easy to see why so many casino lovers want to play Starburst slot free. And while demo mode may seem like the only option for free gaming action - there are actually several ways to enjoy to play this slot without spending a single coin. Some of these methods even give you the chance of taking home real tangible money.
No Deposit Free Spins: one of the most popular methods to enjoy free slots is using free spins which require no upfront cost. You will typically find these spins as part of a casinos welcome offer; you will be required to sign up and sometimes perform an additional action. For example at Mayfair Casino, we award 10 no deposit free spins on a new registration - but we do require you to validate your mobile phone number.
No Deposit Slot Bonus: similar to free spins, but with no restriction on what you can play. This bonus can rarely be awarded by a casino site - or can be extracted from using free spins. What you do with the bonus is ultimately your decision - you can stick with the slots for sure, or seek other avenues of entertainment like table games or even live casino. Keep in mind that some bonuses will put certain restrictions on the kinds of games you can play. You may also find that your wagering requirements will be more severe.
Starburst Slot Free Spins
At this point, you may be thinking to yourself: what's better - demo mode or Starburst slot free spins? Honestly, both are pretty good and will allow you to enjoy this classic game free of charge. But there are some subtle differences you will want to stay aware of. For instance, the time it takes to start playing the game. With demo mode, you're almost guaranteed to be playing the slot much faster than if you were signing up to a site and claiming free spins. And the reason for this is very simple; most sites have demo versions of their games available without the need to login or create an account.
In fact, you could visit any old site, navigate to the games list and start playing the Starburst slot demo. With free spins however, you have to actually go through the process of signing up to the site. And while the difference is in the seconds range, it may still be significant for those who potentially just want to practice on the slot for example. Despite the time difference, we would still recommend the spins for one simple reason: winnability.
With a demo mode slot, you have zero chance of winning any real money - no matter how much you play or how many bonus rounds you activate. A free to play slot is exactly that - and this is good if you are just looking for games to play. But you may also want to compensate your time with a potential reward. And while free spins will still have wagering requirements to overcome - there's still a chance that the bonus could be yours to take home.
Finally, if you're intent is to find a new casino - then a demo mode slot will sadly not help you much, as you are only really seeing the surface of the site and not what goes on inside. Once again, this is a major boon free spins have over free playing a slot.
Starburst Slot NetEnt
If free spins still don't sound like a suitable choice for you then the demo of the Starburst slot NetEnt game may be the best solution. If you're unsure of how to get access to the demo, then let us take you through the exact steps to play the game totally free.
Find a good casino: there's literally hundreds of places to find a casino - you're looking at one right now! But what do we mean by a good casino? Well, one that has a demo play option for starters. It may seem like such a simple and necessary feature but some sites just don't have it. If you find a site and they do not have any functionality for free slots, then consider another site - or take advantage of the no deposit free spins if they are available.
Locate the games page and search: most casinos have Starburst in plain view for all to see; it's one of the most popular games after all. So you will typically find the slot in the featured or most popular category. If the site doesn't have categories, then we suggest using the search bar functions - almost every online casino has one and they are a valuable tool for quickly finding games. And if the site has neither? Then we suggest looking for a new casino!
Click on the free play option: demo mode is called many things in the world of online slots. Some casinos call it practice mode, others call it playing for fun - whatever the site names it, just make sure you're not pressing the play for real button. When you have selected the right option, you will be able to enjoy the Starburst slot demo at your own leisure. Some casino sites go one step further and five you the option to change over your lobby to a free play version, so you can switch from practicing to playing for real quickly.
One final point to note; you may notice at other online casinos that once you login, you will only be able to play slots for real cash. The trick here is to logout of the site; this should once again give you access to all the free play slots you can handle.
Starburst Slot Sites
If you're surveying sites for the purpose of joining them, then perhaps you will want to know what the best Starburst slot sites offer? First of all, you will find a promotions page filled with bonuses, free spins and seasonal promotions to take advantage of all year round - not just for holidays and special occasions. Let's face it; who wants to stay at a site when there is barely anything to do? Offers like cashback and free spin bonus codes keep your casino gameplay feeling fresh; the last thing you want is to get so burnt out you can't even enjoy your favourite games.
Second thing you want to watch out for? A nice juicy welcome bonus; if the site offers a no deposit bonus, then you can be guaranteed that the site is comfortable about what it's offering - and that is a good omen nine times out of ten. But beyond any free spins and bonus cash, you will want to keep a close eye on any deposit bonuses you may be eligible to claim. Typically, these bonuses are far bigger than your standard no deposit bonus, usually allowing you to take advantage of a deposit match offer. You can also expect to receive plenty of bonus spins on top which is a fantastic way to get even more bonus rewards.
One final indicating factor you should look out for when signing up to a Starburst casino? The bonus wagering and terms. You can usually deduce how generous or stingy a site is by viewing their terms and conditions, which should be clearly visible on any offer the casino promotes. And while all bonuses will come with some form of wagering and restrictions one way or another - how severe those restrictions are really depends on the site.
For example; our own Mayfair Casino no deposit free spins bonus gives you 10 free spins with no deposit required. We have a 100x wagering requirement on the bonus winnings and a maximum conversion of 4x the bonus; we keep this information in plain sight for you to see. Other casinos will have even more severe wagering requirements, giving you little chance of converting the bonus into cash.
Starburst Slot Tips
While playing demo mode slots might be one of the shrewdest Starburst slot tips, there are some other secrets that can further enhance your love for NetEnt's best game. First of all, is taking advantage of auto play mode. In the days of mechanically operated slots, there was something especially satisfying about cranking that handle and watching the reels spin. And while pressing a spin button is still a satisfying process, your fingers may get tired after the umpteenth time. This is where autoplay is absolutely magical, letting you set how many turns you want the slot to spin for. Best of all, you can also set the auto play to stop on meeting certain conditions - like if your balance increase by a certain amount.
Secondly, we highly recommend taking advantage of your smartphone or tablet to enjoy Starburst on the go. What's nice about mobile is the unparalleled flexibility available to you; you can lie up on your couch, head to the bedroom or even play the game on the bus! Playing on a PC or even a laptop is nowhere near as comfortable, as you either have to sit in a certain position or have your lap slowly cooked by roasting hot computer components. Accessing the slot on mobile is super simple as well; simply login to your casino via your phone and away you spin! The site may look a little different on a smaller screen, but you should still expect to see the same functionality.