Arnie's back baby: Terminator 2 slot coming soon
Skynet beware; Arnie's back in the new Terminator 2 slot machine!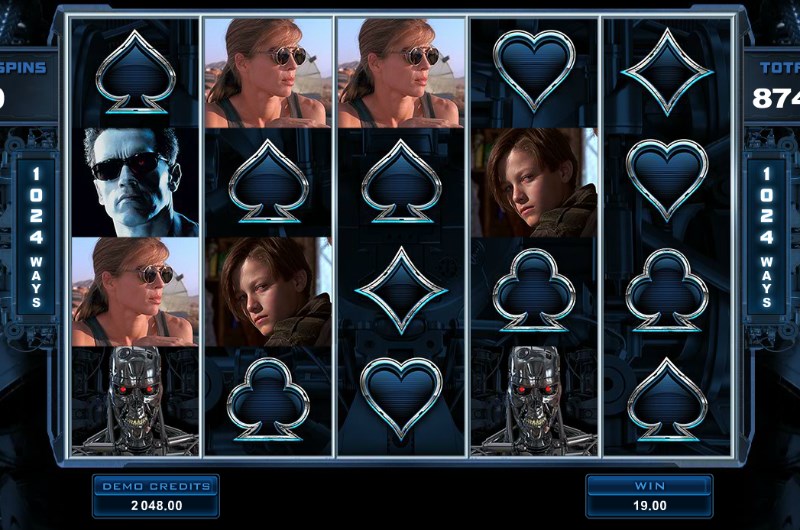 Hasta la vista, baby! The Terminator 2 slot machine captures the award winning effects of the 1991 film in this thrilling licensed video slot.
Arnie's back in action thanks to those master minds at Microgaming, who have once again shown the world how to create a licensed slot game. Based on the hit 90's blockbuster, this 243 ways to win slot will help you relive one of the best sci-fi flicks of all time.
In terms of game design, the slot perfectly reflects the sci-fi vision of the film with circuitry and what looks to be the innards of a machine.. Additionally, the cast of the film join the action as high value picture symbols, once again giving fans the chance to relive a cinematic classic.
But how does the slot play? Let's battle it out with the machines and find out below:
Terminator 2 Slot Review
Whilst playing the game for our Terminator 2 slot review, we quickly confirmed just how impressive the game features were. Most impressive of all is how closely they related to the events of the film. The T-800 Vision feature for example is a strong example of how a licensed slot feature should be.
The red gaze of the Terminator will engulf the reels and award instant mystery prize wins. Best of all? A single scatter symbol will activate the main game feature during this bonus. Sure, Arnold Schwarzenegger may intimidate even the most advanced robots - but here his gaze is the sign of an epic win incoming.
But Arnie doesn't get all the fun in the Terminator 2 slot machine; his film arch nemesis, the slippery T-1000 also gets a starring role. Trigger the free spins either by the T-800 Vision feature or by matching the correct scatter symbols. The reels will then suddenly morph into a brand new shape; giving you an amazing 1024 ways to win while playing the bonus.
And that's not all; during the Terminator 2 slot free spins, the T-1000 can get up to his usual shape shifting tricks and morph into the highest paying symbol on the reels, offering the chance for even higher wins.
The slot features a relatively high RTP of 97% and features a medium volatility, making it a good middle ground for advanced and beginning players.
Play Terminator 2 Slot Free
Due to launch at the end of July, you can play Terminator 2 slot free at Mayfair Casino either by using the demo mode features available on the site or by taking advantage of our no deposit free spins bonus. If you are a fan of licensed movie slot games or science fiction in general, then you will certainly want to check out this masterful recreation of a cinematic classic.