Tarzan Online Slot swinging soon into the Mayfair Casino Jungles
King of the swingers? More like king of the spinners...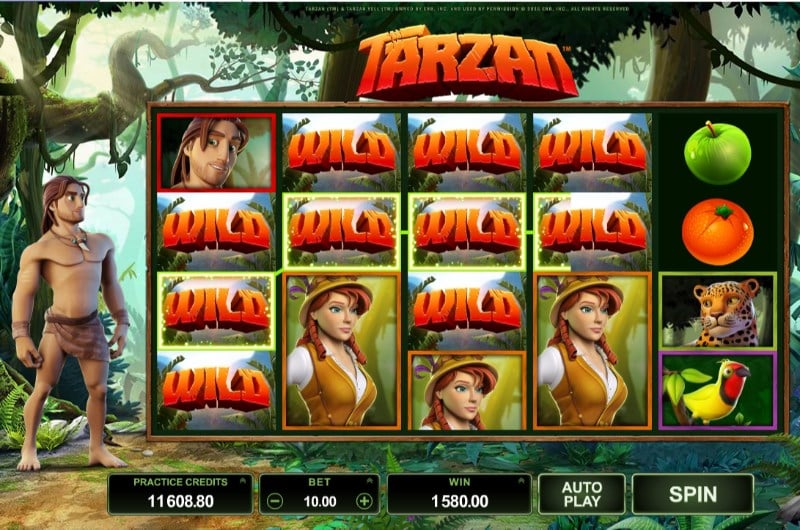 Tarzan Online slot is swinging into Mayfair Casino this July - and he's bringing tonnes of swing with him!
Microgaming's take on the vine traversing wild man is a colourful and rich 3D affair with exquisite graphics and animations. To the left of the reels, Tarzan eggs you on pulling a variety of fun poses as you spin away. On 5 reels, you will find a range of delicious fruits and native jungle wildlife that you will need to match across the 40 paylines.
At an initial glance, the Tarzan online slot is an attractive game - but what about the game bonus features?
Tarzan Slots Review
Our TL;DR Tarzan slots review? This game is well worth your time and cash (if you're not playing for free). This instant approval is thanks to the wide variety of bonuses on offer, which all begin with the bonus wheel. Match 3 or more of the bonus symbol and you will be able to take a spin on this wheel to unlock cash multipliers, an instant jackpot, the Pick-a-Potamus bonus and even a fee spins feature.
What's important to note is that the value of the cash multipliers on the reels actually scales with how many scatter symbols landed to activate the feature. Even matching just four scatter symbols instead of three can have a noticeable impact on as the prizes literally double in size. Match five scatters and you can expect prizes worth triple the amount of a three scatter match.
The number of scatters land in the Tarzan online slot also dictate how big the potential jackpot prize could be. A three satter symbol match awards just 200 times your total staked bet. But a five scatter symbol match boosts the prize all the way to 1000x total stake!
If the Pick-a-Potamus bonus feature sounds like a pick and click game, then you would be correct. In total there are 12 submerged hippos to choose from and you will receive two guaranteed wins. However, the bonus can continue for as long as you don't pick the symbol to end the feature - which will also pay a prize.
And then we come to the Tarzan slots free spins; activate this bonus and you will get 12 free spins with two features enabled; rolling reels and growing wilds. If you have ever played a slot like Thunderstruck 2, then you will know what to expect from rolling reels. Each win will shatter the symbols that caused the win, letting new symbols join from the top. The growing wilds feature on the other hand will increase the wild stack by 1 with every passing spin up to a maximum of 15 stacked wilds!
Play Tarzan Online Slot Free at Mayfair Casino
Launching on the 26th July, we recommend you play Tarzan online slot if you enjoy bonus wheel style features or enjoy an attractive, cartoon jungle themed slots. Tarzan is certainly a treat for the gambling senses and will have you swinging for the nearest mobile or PC to play it!