Gems Gone Wild slots is a sparkling new addition
Prepare your eyeballs for the shiniest slot game around...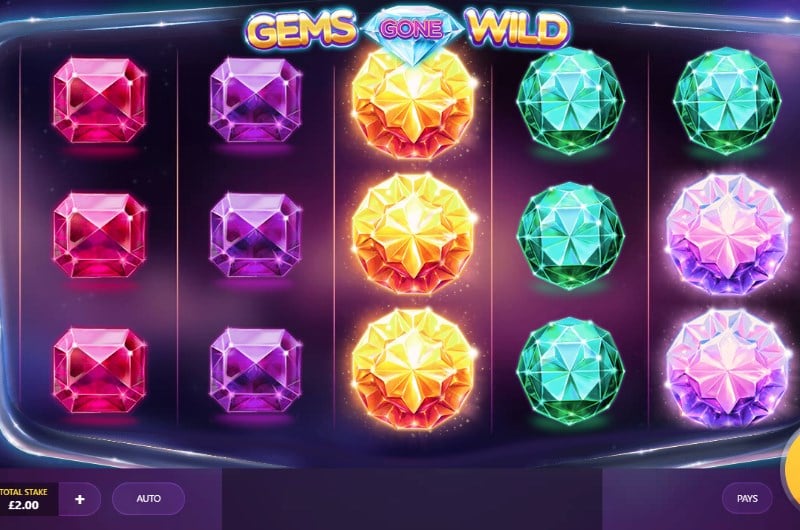 Starburst move over - Gems Gone Wild slots is poised to snatch your crown!
Developed by Red Tiger Gaming, this is a 20 payline slot that boasts a crystalline appearance. Every inch of the reels is covered in precious gemstones - making this one of the most beautiful slots we have seen in a while.
Aesthetics wise, the slot bears a resemblance to Starburst with a space like background. But in terms of the features - how similar is this slot to NetEnt's classic game? Find out more in our Gems Gone Wild slots review.
Gems Gone Wilds Slot Game Features
The Gems Gone Wild slot game does not have a free spins feature - nor does it have a gamble bonus round. Once again, this game draws parallels to the NetEnt slot. But Red Tiger's gem-studded game is superior in many ways.
First of all, you get double the paylines. Secondly, there's no specific wild symbol in the game - all of the gem symbols can turn wild! And if a gem symbol does turn wild, then you can also look forward to a free re-spin. If another gem turns wild on the next spin, then the process continues until all of the reels potentially turn wild.
In truth, it's hard not to draw parallels with Starburst slot - and in some ways even Berryburst slot. But Red Tiger has crafted an engaging and stunning looking game. Gems Gone Wild slot is perfect if you enjoy fast-paced action and chances for regular wild wins.
Play Gems Gone Wild Slots
In a world of complicated slots with complex features, slots like Gems Gone Wild are a much-needed relief. Sure, there may be no free spins and a total lack of gamble bonus features. This slot is destined to be a hidden gem - quite literally. Gems Gond Wild slot is now available to play at Mayfair Casino on mobile or PC device.