Cash Cookout: The only game that makes burning money fun 🔥
Cash Cookout shows us that burning money is not always a bad idea; especially when there are cash prizes to be won...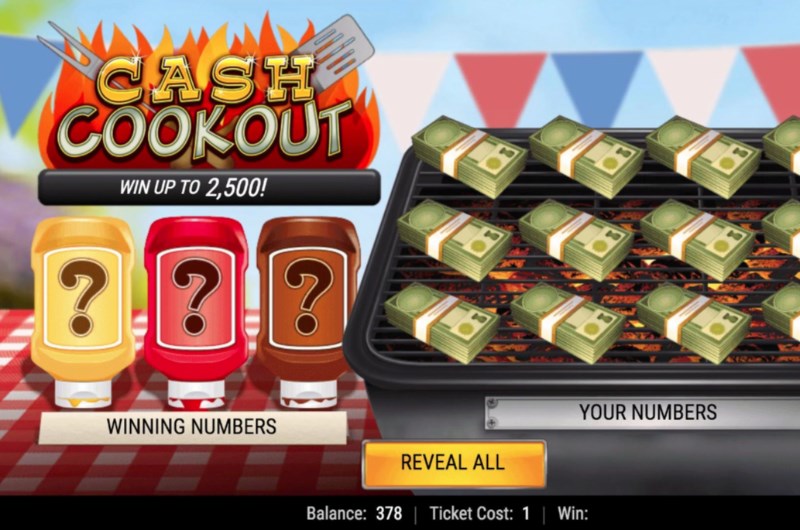 Cash Cookout is a game where you literally burn money on a smoking hot BBQ.
Yep, IGT's latest game really puts the term "burning your money" into perspective. But that's okay, because burning this money could have beneficial effects on your win balance!
The latest in a new line of instant win style, casual games, Cash Cookout sets the scene in a quiet rural surrounding; there seems to be some kind of event taking place with celebratory flags and decorations used throughout.
At the forefront of the game is the playing area, which happens to be a coal powered BBQ; to the left, we find three sauce bottles. But how does this all connect together?
Cash Cookout Game Details
Before each game round you will be given three lucky numbers, which you will be able to see on the adjacent sauce bottles. These numbers directly correlate to the piles of money casually smoking on the BBQ. To start a game, pick how much you want to bet and confirm the stake amount.
You will then be able to tap on the piles of money, revealing a number and a cash prize underneath each pile. Now you might be sad that these huge wads are burning to a crisp, but your spirits should pick up if you unveil one of your lucky numbers. Land a lucky number and you take whatever prize is underneath - it's that simple!
Cash Cookout features two primary playing styles; you can either opt to tantalise and tease yourself by picking each pile of cash one by one; or you can remove any mystery whatsoever and reveal all of the prizes at once. It's your cookout and ultimately - your call!
There are a total of 12 game spaces in all and 3 lucky numbers generated out of a possible 39. Unlike other IGT games like Cleopatra slots, this game does not feature a bonus element like free spins. Instead, what you do get is a very relaxing and casual playing experience which seems perfect for a long and hot summers day.
When can you play Cash Cookout
IGT's new focus on casual, mobile friendly games is as refreshing as a tropical drink with a tiny little umbrella. While slots like the aforementioned
Cleopatra slots
offer an excellent bonus round mechanic, Cash Cookout plays out more like a scratchcard; easy to play and genuine fun. Mayfair Casino players will get to access to this new game on mobile and PC from the 28th June; just in time for some hopefully BBQ friendly weather!