Heavenly gaming awaits with new Angel's Touch slots
Step up to the pearly gates and get ready for some heavenly gaming action...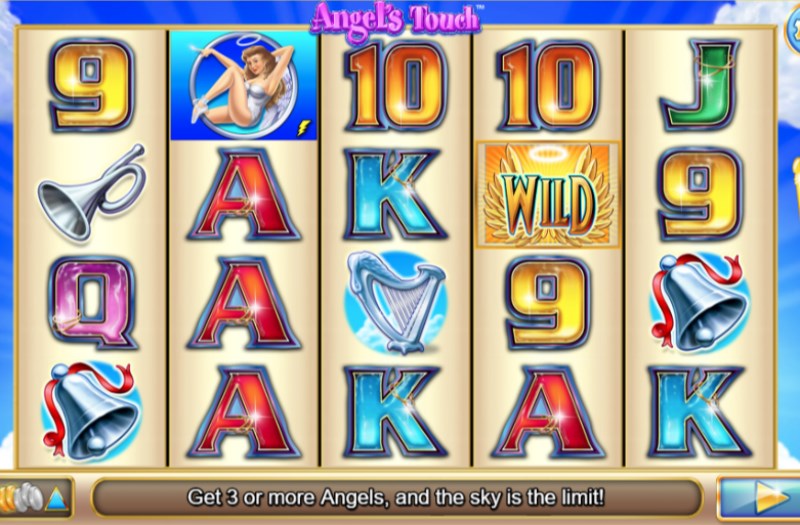 Angel's Touch Slots Review: an angelic slice of gaming heaven? Or an infernal gambling hell? Thankfully it's more of the former…
If you're looking for some heavenly high variance action with an attractive 40s theme, then we suggest you give this SG Gaming slot some serious consideration when it lands on the 19th July at Mayfair Casino.
In terms of actual game setting, this really is located at heaven's doorstep with the gates wide open for you to enjoy a spin. On the reels, we have an array of angelic themed items like silver harps, bells and trumpets. And we also have our lovely angel starlet. But is the gameplay as divine as the theme suggests? Let's take a look:
Angel's Touch Slot Game
Features wise, the Angel's Touch Slot Game seems to live by the mantra less is more with only one notable bonus feature, but several rewards can be extracted from activating the bonus. First of all, you will need to match at least three of the angel scatter symbol. Instead of activating a free spins bonus however, this will activate the Angel's Touch Bonus.
You will then be taken to a screen with lots of fluffy looking clouds; this is a picking bonus game where you get to pick from one of the eight displayed clouds. Underneath these clouds you will find multipliers and symbols that can activate in the free games. x2, x3 and x5 multipliers could be revealed and a maximum multiplier of x20 can activate during free spins.
During our Angel's Touch Slots review, we also managed to pick a bell and a harp symbol - which are divine picks indeed. If these two symbols are revealed, then they will become additional wilds during the free spins. There is also a devil symbol, but you will want to avoid this at all costs; revealing two devil symbols during the pick bonus will end the bonus altogether!
Once the free spins have been activated, there is a chance you can further retrigger the free games for even more angelic fun - simply land the bonus symbols again to discover your new rewards!
In addition to the Angel's Touch Bonus and the free spins, we also have a wild symbol - but this doesn't have any special modifying features; the symbol will simply substitute for other symbols in a winning payline. While the feature set of the slot may be simple, the various mechanics mesh well together to make a fun gaming experience overall - especially if you enjoy high variance slots.
Play Angel's Touch Slots at Mayfair Casino
So is it gaming heaven or a gaming hell? Thankfully, this is a divine gaming experience you won't want to miss - so we recommend you play Angel's Touch slots. The high variance gameplay, attractive 40s theme and super Angel's Touch bonus is celestial bliss. You can play this game when it launches at Mayfair Casino on the 19th July.