Alchymedes Slots Review: Yggdrasil brew their best slot yet
Brew winning concoctions in this new Yggdrasil slot...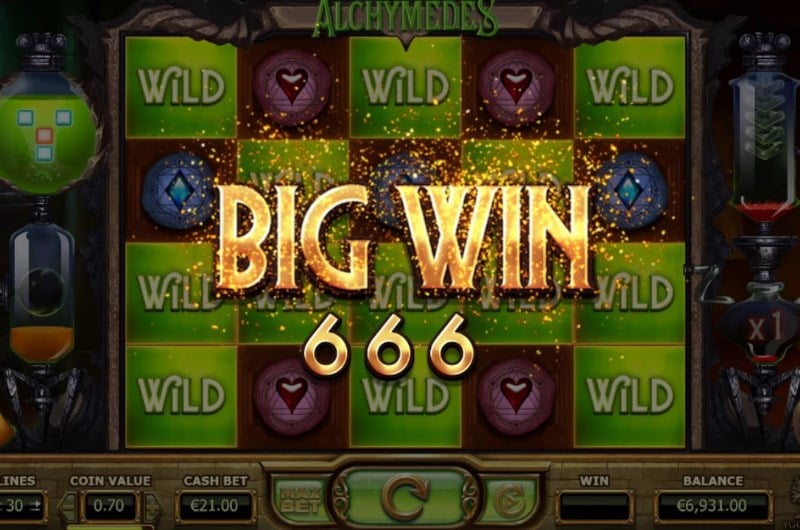 Alchymedes Slots Review: Yggdrasil come up with a winning combination once again.
The 60 payline slot, which launches at Mayfair on the 18th October, is full of unique features. A level up mechanic, pattern wilds and accumulating multipliers… we feel there's a successful formula here somewhere.
Visually, it's clear that Alchymedes draws inspiration from popular magic franchises like Harry Potter. Set in an awry looking swamp, the graphics of this slot are up there with the likes of
NetEnt slots
. The game looks and feels suitably magical with enchanting sound effects added for extra ambience.
The symbols are a range of potions and card suits which have been given extra enchanting lustre. It's a fantastic looking slot - but what's the gameplay like?
Alchymedes Slots Bonus Features
If you're expecting a traditional payline slot like Cleopatra or Starburst, then prepare for a surprise
.
In this Yggdrasil slot, there are no free spins to speak of - instead, we have a video game like progression path
.
Each level of the slot
is completed by
turning every segment on every reel gold; this
is done by
spinning winning combinations
.
The winning symbols in that payline will turn their respective backgrounds gold.
Once every background colour has changed, you will have completed the level and can move on for extra bonuses and rewards
.
On the right hand side, you will notice a red potion with a multiplier inside it.
As you spin, this will
randomly
increase; on the final win that completes the level, this multiplier will
be awarded
.
In a green flask to the left of the reels, you will see a pattern; this pattern corresponds to the wild patterns that will appear as you spin on the Alchymedes slot game
. Both the multiplier and the wild patterns can
be levelled
up once you have progressed to the next level.
Choosing more wild patterns will increase the size of the wilds while choosing the multiplier bonus will affect the speed the multiplier increases
.
Alchymedes RTP
Alchymedes features an above average return to player of 96.1%. For
maximum
payouts, you are going to want to hit a combo of potion symbols. In particular, the purple potion - which is the highest paying symbol available. If you manage to match five or more in a row, you can look forward to a 500 coin payout. Combine this with the increasing multiplier and you could be brewing a super big win.
Alchymedes slots is magical, beautiful and very unique. The level up mechanic almost reminds us of one of those engaging mobile puzzle games. Except in those games, you can't
potentially
win real money. Launching just in time for Halloween, you can play this Yggdrasil slot on your mobile, tablet or PC device.