How to get Free Spins on Starburst No Deposit
Looking for a Free Spins on Starburst No Deposit bonus? We show you how to find the best free spins with our quick guide.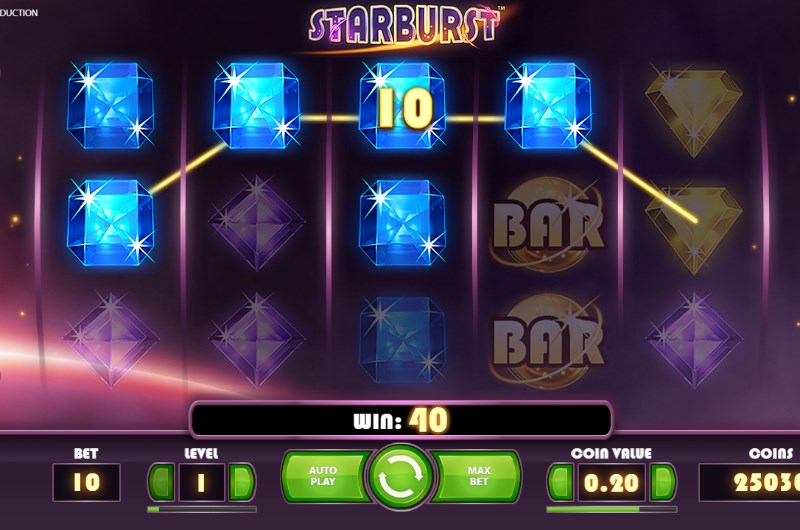 In 2012, NetEnt introduced the casino world to Starburst slots. This unassuming 10 payline and 5 reel slot has quickly become the most popular slot game online. And one of the reasons free spins on Starburst with no deposit are so highly sought after.

Especially given you can actually win real cash (with some luck and patience). In this short article, we share tips and tricks on how to find free spins for this amazing game - and show you some ways to maximise the bonus.
Find Free Spins On Starburst No Deposit Mobile Slots
Let's be honest: mobile is the best way to enjoy Starburst. Compact and tight controls give players access to the features they want much faster - and its overall a better playing experience. Want to set the autoplay? Hold down that spin button and relax. Feel like the next few spins are sure to be lucky? You can amp up your bets and seek more valuable payouts.
The greatest perk to playing on your smartphone is the number of casinos willing to give you free spins. Not just free spins either -
no deposit free spins
. And there are a few ways to ensure that you are always receiving the latest offers.
#1: Enable notifications: When you sign up at a casino, you can choose what communications you receive. And many slots players will opt out of everything for fear of spam. This is a missed opportunity, however. Thanks to data protection acts and perceptions around spam, the last thing a site wants to do is to send you too many emails. And that's why you will find most regulated casinos have a considered stream of marketing messages.
If you want to get free spins on Starburst - then we suggest allowing some forms of communication. Even if it's only by email or text - this way you won't be missing out if the site does launch some kind of no deposit free spin offer. There's also a chance that you may receive bonuses for other
NetEnt slots
games.
You could also optionally give the casino permission to send you notifications; this practice is particularly common for mobile apps. In a way, these are superior to emails or texts as they don't clog up your personal messages.
#2: Don't forget the promotion page: Signed up to emails? Good - but don't neglect the promo page! Many casinos leave some of their best offers in these valuable spaces. You should also make a habit of checking promotional pages around seasonal events. For example Christmas or Halloween. But by far the best time to stock up on free spins and bonus is during Black Friday. Yes, it's a big day for online stores - but online casinos love it too.
#3: Found a bonus? Analyse the terms: Don't take the first bonus you see - even if it seems like the best thing ever. What you want to do is compare several bonuses together - checking the various terms and conditions to find the best one. You want to look out for wagering requirements as a priority. The lower the wagering requirements, the more likely you are to withdraw the bonus. While you are rifling around the terms and conditions, you will also want to check for any bonus caps or max conversion limits.
Bonus Tip: Be careful of top 10 sites:
If you have been looking for
Starburst slots
free spins for long enough, then you have probably come across top 10 style sites. These affiliate websites will list out various casinos and their respective bonuses for you to choose. It sounds good on paper - it seems like they are saving you work. But always remember to cross-check their bonus with other sites of a similar nature. You may find an even better dealer. Shopping around is always a smart idea when it comes to no deposit free spins.
How to use Starburst Free Spins 2020
So you have done all the hard work and have your Starburst free spins. The next step? Play them and get that all-important bonus. The amount of bonus you get will depend on several factors, including luck and if there was a bonus cap in place. Hopefully, you checked the fine print to make sure you were getting the best deal possible. Once you have your bonus, you can use it in a number of different ways including...
#1: Try out some live dealer games:
It's always good to explore outside of your comfort zone - and table games are a fantastic way to start. Yes, slots are often said to have the biggest payout potential when compared to other casino games. But the house edge on games like
live dealer roulette
or blackjack is minimal compared to a slot. If you do try these games with your bonus, keep in mind you may be subject to more severe wagering requirements. As we mentioned, the lower house edge of these games means they are less volatile. If you do find a casino which doesn't exercise this policy - then that site is a keeper!
#2: Have a spin on different games: We'll be frank with you; we love Starburst. It is definitely among our favourite games ever. But there are options outside of this classic slot game. Berryburst slots, for example, is every bit as good as NetEnt's classic slot. And depending on your preferences - you may even prefer it. But both of these slots are low volatility - and a quick way to change the pace of the gameplay is by trying higher volatility slots. You will notice that you will win less frequently - but when you do win, it will be much more substantial.
#3: Try and turn it into real money: One of the best things you can do with a bonus is to try and convert it into real cash. And this is entirely possible. It's worth noting however that converting the bonus really depends on the terms and conditions. And that's why you should take extra care when seeking these out. If you do want to convert the bonus, you will need to check the bonus page and find out what terms you will have to satisfy. Here's what you should be keeping an eye out for:
Wagering requirements: As a general rule of thumb, the higher this number is, the less likely you are to convert the bonus. Aim for smaller wagering requirements if you can. But you may still want to try your hand at a free spins on Starburst no deposit bonus with higher wagering requirements. After all - it is free.
Max conversion: Some casinos will cap the amount of bonus you can convert from a free bonus. This isn't all bad - many casinos employ these practice. But you should be looking for free spins that have the conversion set at a generous rate. Let's say you can convert a maximum of 3x the bonus. And let's say you won £5 from your spins. That would mean you could withdraw £15.
Time limits: You may have to meet the wagering in a certain time frame. And if you can't satisfy the conditions, the casino will likely remove all of the bonus from your account.
Wagering restrictions: As this will be a slot bonus, you may face some restrictions to play table games. Ideally, you want to avoid these restrictions - as table games can really help you convert that bonus. These restrictions can come by either restricting the bonus to play certain games - or by capping the wagering contribution. Roulette is a good example; typically you will find that only 10% of bonus wagers will go towards a full wagering requirement. Remember - the fine print is your friend.
Free Spins on Starburst No Deposit UK
NetEnt's space themed slot is incredibly popular in the UK - and you will find all sorts of online casinos offering free spins on Starburst with no deposit for UK players. But what is so special about this slot? And why can't players get enough of it?
Well, at the time of release, it was a special kind of game. Visually, the slot had no competition. Developers were still inexperienced with 3D models in slot games. When NetEnt came along with their shining gems and glistening jewels, all the 2D games just hung their heads in shame. Try the game once and aim for a big win - your eyes will thank you.
And let's not forget the sound - which took cues from classic arcade games of the 90s. In fact, the slot took many cues from video game cabinets of this era. We only need to look at the gameplay to see the clear influence. No free spins rounds, no scatters and no pick and click features - Starburst is content with just one feature. The legendary expanding, re-spinning wild.
Overnight, the game became a runaway success on PCs and laptops around the world. But it was smartphones and tablets that would truly lift this game into the vaults of NetEnt slot history. It's as if the game was born for mobile. Starburst is a casual playing experience made even sweeter by the ease of spinning on a smaller device.
But what is next for Starburst slots? Now that the game has dominated the realm of online casino - it doesn't seem like there are any more ladders to climb. It seems that developers NetEnt will use their classic game as the catalyst for a series of games.
Berryburst slot
was the first new game in this franchise - and not only does the name resemble Starburst - the gameplay does too.
Gone are the 10 payline format and both ways mechanic of 2012. Berryburst instead opts for the innovative cluster pays system and removes paylines completely. Even the main bonus feature sees a marked improvement. The expanding wild doesn't just appear on the three central reels alone - it can also appear on the 1st and 5th reels too.
Wherever the franchise goes, we're sure it will be an interesting journey bursting with free spins and opportunities to win.